CRRH's Cannabis Tax Act
---
Make the most of the hemp seed, and sow it everywhere!
George Washington



A little rebellion now and then is a good thing.
Thomas Jefferson



In any civilized society, it is every citizen's responsibility to obey just laws. But at the same time, it is every citizen's responsibility to disobey unjust laws.
Martin Luther King Jr.



It took courageous people to stand up and question the prohibition against alcohol.
Rick Steves




---
CRRH's Cannabis Tax Acts (CTA) would comprehensively reform marijuana laws by regulating and taxing adult sales; licensing the cultivation of the drug for sale in adult-only businesses; allowing adults to grow their own and farmers to grow industrial hemp without license; and letting doctors prescribe untaxed cannabis to patients suffering from a variety of illnesses and injuries.
CRRH has now launched our campaign to end adult marijuana prohibition, restore industrial hemp and help medical marijuana patients through our ground-breaking Cannabis Tax Act legislation.
This site provides an introduction to OCTA , publishes the full text of law (OCTA), and explains why CTA will be upheld in a court of law (OCTA). You can also learn about the initiative requirements (OCTA) and our work lobbying against prohibition.
We are working to place CTA on the ballot in Oregon and perhaps other states by the year 2012. Hemp can help create local jobs and help America.
If you are interested in helping, please contact us.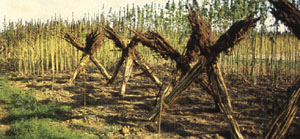 CRRH NEWS | MISSION | CRRH POLICIES
CRRH CONTACTS | OREGON LEGISLATIVE HISTORY