Maryland: Baltimore Ravens' Monroe Makes Big Donation To Marijuana Research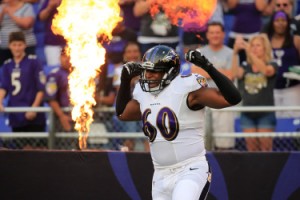 By Derrick Stanley
Hemp News
Baltimore Ravens tackle Eugene Monroe, ever the outspoken marijuana advocate, has donated $80,000 to a group researching medical marijuana at Johns Hopkins and the University of Pennsylvania.
The study is looking into possible marijuana-related therapies for current and former NFL players.
The press release from The Realm of Caring and CW Botanicals said Monroe: "cannot use cannabinoid products and is instead prescribed opioids to manage his chronic pain from sports-related injuries. He recognizes the benefits of cannabidiol (CBD) for pain management and Chronic Traumatic Encephalopathy (CTE) and fully supports this research that could help professional and amateur athletes as well as anyone suffering from neurodegenerative diseases. Eugene hopes that his actions will influence the NFL in changing their policy on cannabis and recognize it as a viable treatment option.
"Due to the NFL's strict anti-cannibas policies, it's difficult for current players to speak in support of the plant and its potential therapeutic uses. Despite the risks, on March 9 Eugene became the first active NFL player to call on the NFL to remove marijuana from the banned substances list; fund medical marijuana research, especially as it relates to CTE; and to urge the NFL to stop overprescribing opioids."
The NFL has shown no sign of wavering in their outlook toward a substance which is legal on two of the cities in which they do business.
There has been no reaction to Monroe's donation from the Ravens so far.