Florida: Bruce Dietzen Makes Car From Cannabis Hemp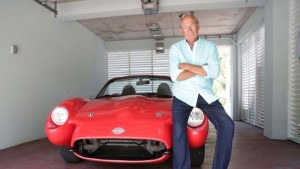 By Derrick Stanley
Hemp News
Bruce Michael Dietzen of Florida has built a convertible sports car made from cannabis hemp. He has been promoted as possibly leading the charge in making carbon-neutral vehicles.
He hopes his environmentally friendly car will help remove the negative stigma often associated with the cannabis plant.
"Cannabis hemp is still considered a dangerous drug according to the government. It's considered as dangerous as heroin or cocaine — it's insane!" he said. "This green machine is made from three plies of woven hemp, making it lighter than cars made from fiberglass."
The body of the car, built on a Mazda chassis, is at least 10 times more dent-resistant than steel, so it would fare much better in an accident.
"The body of the car uses about 100 pounds (45kg) of woven hemp," he said.
Dietzen was inspired to build the car after hearing about Henry Ford using the material in 1941 to build the world's first soybean-hemp car.
Acquiring the material to build the car was harder than he expected.
"I live in Florida, hemp is still illegal to grow so I had to import the woven material all the way from China because we still don't have the facilities that can make hemp fabrics," he said.
The car cost Dietzen about $200,000 to build. It runs on a bio fuel made from recycled agricultural waste, and is expected to be even more environmentally friendly thab standard electric-powered cars.
"Many states are starting to make it legal," he said. "It's a really great sign as we're getting back to the point where we're starting to make products out of industrial hemp just as Henry Ford suggested we should do."