California: Police And Prison Guard Groups Fight Marijuana Legalization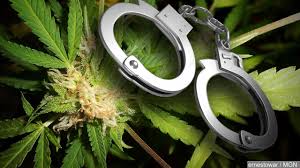 By Derrick Stanley
Hemp News
Police and prison guard groups are afraid that legalizing recreational marijuana in California will cause them to lose the revenue streams upon which they have become addicted. These groups have raised roughly half of all money raised to oppose the legalization measure.
The marijuana legalization initiative is slated to go before voters in November. Opposition to the initiative has been organized by John Lovell, a longtime Sacramento lobbyist for police chiefs and prison guard supervisors. His Coalition for Responsible Drug Policies raised $60,000 in the first three months of this year for his committee created to defeat the pot initiative, according to a disclosure filed earlier this month.
The funds came from groups representing law enforcement, including the California Police Chiefs Association, the Riverside Sheriffs' Association, the Los Angeles Police Protective League's Issues PAC, and the California Correctional Supervisor's Organization. Other donors include the California Teamsters union and the California Hospital Association, as well as Sam Action, an anti-marijuana advocacy group co-founded by former Rep. Patrick Kennedy, D-Mass., and former George W. Bush speechwriter David Frum.
Police receive federal grants from the Justice Department to help fund drug enforcement efforts, including specific funding to focus on marijuana.
Asset forfeiture is another way law enforcement agencies have come to rely on marijuana as a funding source. Police departments, through a process known as asset forfeiture, seize cash and property associated with drug busts, including raids relating to marijuana. The proceeds from the seizures are often distributed to law enforcement agencies. California agencies took in $181.4 million in marijuana-related asset seizures between 2002 and 2012.
The groups claim they have non-selfish reasons for fearing the danger so legal pot.
"The membership of the CCSO opposes the full-blown legalization of marijuana," Paul Curry, a lobbyist for the California Correctional Supervisor's Association said in a recent interview with The Intercept. Curry said prison guard supervisors do not want to see a society that encourages pot use and said many of his members are grandparents who are concerned about their children. "If marijuana is not a dangerous drug, the federal government would have made a change, but the fact remains that it's a federal crime," he added.
In 2010, Lovell successfully organized and led a campaign to defeat a similar marijuana legalization ballot measure in California. That year, he raised funds from police unions, local prosecutors, and the California Beer and Beverage Distributors Association, in addition to several individual donors.
This year could be a different story. Supporters of legalization have already raised more than $2.25 million for the campaign; that's 40 times what opponents have. Polls show Californians are even more in support of legalization this time around, with around 60 percent of likely voters claiming they will back the measure.