Canada: Next Step Taken Towards Legalizing Marijuana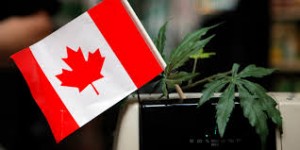 By Derrick Stanley
Hemp News
Canadian leaders have started moving closer towards legalizing marijuana.
Canadian prime minister Justin Trudeau created a committee in the summer of 2016 to look into the possibility of making recreational marijuana use legal for the entire country.
The panel, chaired by former Canadian Deputy Primate Minister Anne McLellan, recently submitted its findings. The panel calls for a tightly regulated recreational market for adults while cracking down on the black market.
The report said their recommendations will "strike a balance between implementing appropriate restrictions, in order to minimize the harms associated with cannabis use, and providing adults access to a regulated supply of cannabis while reducing the scope and scale of the illicit market and its social harms."
Trudeau has said he expects to file legislation based on the recommendations of the panel in the spring of 2017.
The Canadian Liberal Party website states: "We will legalize, regulate, and restrict access to marijuana."
"Canada's current system of marijuana prohibition does not work," the site states. "It does not prevent young people from using marijuana and too many Canadians end up with criminal records for possessing small amounts of the drug."
Recommendations of the report include:
-Regulating advertising so it will not appeal to young people, or associate marijuana with use of other substances such as tobacco or alcohol
-Set the legal age limit at 18
-Requiring packaging that clearly states what the product contains, including strain of cannabis and amount of tetrahydrocannabinol (THC), the ingredient in marijuana that causes the "high"
-Conducting sales only through specialty stores licensed by the government
-Homeowners could have up to four cannabis plants, and individuals could carry up to 30 grams in public
-Creating a "seed-to-sale" tracking system for recreational cannabis production
-Extending the restrictions on public smoking of tobacco products in Canada to include cannabis
-Strengthening penalties for selling cannabis outside the legal system
The panel concludes that creating a government-run infrastructure for marijuana sales will take time and effort, but that "Canada is well-positioned to undertake the complex task of legalizing and regulating cannabis carefully and safely."