Canada: Marijuana Stocks Soar After Reports That Trudeau Plans To Legalize Marijuana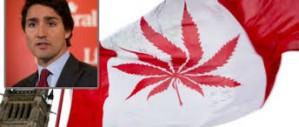 By Derrick Stanley
Hemp News
Canadian marijuana stocks were on a high Monday following reports that the government plans to legalize the substance for recreational use for adults by July 2018.
According to the CBC, Prime Minister Justin Trudeau's government is expected to announce the planned legislation the week of April 10.
Shares of Aurora Cannabis and Organigrams holdings were up 10 percent, Aphria rose 7.9 percent, Canopy Growth Corp. jumped 11 percent, SupremePharma and EmblemCorp rose 6 percent.
The minimum age limit for purchasing marijuana will be 18, according to the CBC, although individual provinces can set the minimum age higher if they wish.