Colombia: Fourth Latin American Country To Legalize Medical Marijuana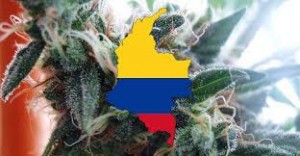 By Derrick Stanley
Hemp News
The Colombia House of Representatives made a historical decision Wednesday when they approved a law regulating the medicinal and therapeutic use of marijuana nationwide.
The idea, which came from Liberal Senator Juan Manuel Galan, was discussed for ten months, first by the Senate and then by the House. Ultimately, support of the initiative was almost unanimous, passing with a 83-3 vote.
The law passed by Congress regulates the planting, cultivation and distribution of marijuana, which are currently under government monopoly. They establish the necessary means to issue licenses for growing conditions, and distributes harsh penalties for those who contribute to illicit drug trafficking.
Also, the law establishes fees for the granting of licenses and establishes penalties for licensed growers who commit irregularities.
With the decision of Congress, Colombia becomes the fourth country in Latin America to have legislation on the use of marijuana for medicinal purposes. So far, only three other countries- Chile, Puerto Rico and Uruguay- have taken this step.
In Chile, a law legalized the medical use of marijuana in 2014, and in April this year they harvested the first planting of cannabis for medicinal purposes authorized by the national government, with the aim of benefiting 200 cancer patients.
In Puerto Rico, medicinal use was legalized by an executive order of the governor of Puerto Rico, Alejandro García Padilla.
While Uruguay, perhaps the most revolutionary country in the matter, passed the law in December 2013 which regulates marijuana production (state-controlled), marketing, possession and recreational and medicinal uses, as well as its use for industrial purposes. Uruguay became the first country in the world to legalize the sale and cultivation of marijuana completely.
In the rest of the region the use of the plant remains illegal, and in countries like Brazil, Argentina, Costa Rica, Ecuador, Mexico, Peru and Venezuela the consumption is decriminalized. In countries like Bolivia, Cuba, El Salvador, Guatemala, Haiti, Honduras, Nicaragua, Panama, Paraguay and the Dominican Republic, marijuana is illegal for both recreational and medical use.
"Now we can access a substance that helps control pain and improve their quality of life," said Galan. "There are more than enough studies on the remedial properties of marijuana and other very promising research which can predict that in a few years marijuana will not be solely curative, but palliative as well."