Connecticut: Lawmakers Debate Legalizing Recreational Marijuana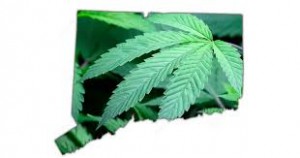 By Derrick Stanley
Hemp News
Connecticut lawmakers debated Tuesday on recreational marijuana legalization, and found only disagreement.
"It is time to consider legalizing marijuana for adults," said State Rep Melissa Ziobron, R-East Haddam, and sponsor of a bill to legalize recreational use during testimony before the General Assembly public health committee.
"I realize this is a difficult issue for many," Ziobron said. "But legal marijuana is safer than alcohol and tobacco. Marijuana has never caused a fatal overdose in the 7,000 years of reported human use."
Carolyn Dennis of Milford told the committee she opposes legalizing marijuana, especially under the guise of raising revenue.
"Do not threaten our state's future by endangering the future welfare of our citizens' health for a dollar," Dennis said. "I expect that unlike the supporters of this proposed bill, you will not let budget woes take a front seat over the health of the residents and workers, children and adults in the state."
Massachusetts and Maine voters last year authorized recreational use and the sale of weed is expected to begin next year. Weed is also legal for recreational use in Colorado, Washington, Alaska, California, Nevada and Oregon.
"It's not just about the revenue," Ziobron said. "In Denver tourism is at all-time high, no pun intended. They found marijuana laws increased the decision to go on vacation in Colorado by more than 50 percent."
She also pointed out that doing nothing as Massachusetts and other nearby states legalize marijuana could cost Connecticut economically.
"What's going to happen when they start driving through Connecticut to Massachusetts and Rhode Island to enjoy something other states have legalized?" she asked.
But State Sen. Michael McLachlan, R-Danbury, noted weed remains illegal under federal law.
"President Trump does not support recreational marijuana use and has signaled law enforcement to strictly follow federal law regarding marijuana usage," he said.
Ziobron said that Trump also said recreational use should be a state decision. "It's not stopping Maine or Massachusetts from going forward. Obviously, I don't have a clear answer on that at this time," she said.
State Rep. Pam Staneski. R-Milford, conceded legal weed is probably inevitable but added it must be done the right way, with sufficient prevention efforts, zoning rules and other protections.