Colorado: Hunter S. Thompson's Marijuana Strain To Be Sold As Gonzo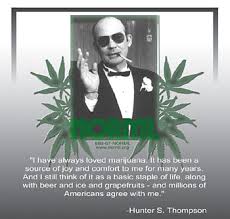 By Derrick Stanley
Hemp News
Hunter S. Thompson's widow, Anita, took over ownership of the writer's longtime home, Owl Farm, this summer. In addition to making it a writer's retreat and a private museum, she will be launching a new brand of cannabis products from there.
"I'm excited," she said. "It's a lot of fresh starts."
Anita recently posted on Facebook that she had found a way to extract the DNA from marijuana and hashish that Hunter S. Thompson actually used, which she saved after his suicide 11 years ago.
She intend to offer the pot for sale in states where recreational pot is legal, such as her home state of Colorado.
"Since it became legal I get approached probably once a month by cannabis growers, dispensaries," Thompson said. "I've had probably 10 meetings in the last three years and I always ended up saying 'No' because it's the same story every time: somebody wants to slap Hunter's name on their strain."
She said she was glad that she held off on partnering on a marijuana brand until it could be done right.
"If I put Hunter's name on somebody else's strain I can never go back and say, 'No, this is the authentic one,'" she explained.
"Celebrity pot" is already a common thing, including Marley Natural, created by a Silicon Valley-based company that licensed Bob Marley's likeness.
Willie Nelson claims his Willie's Reserve strain is the "best on the market."
Snoop Dogg and rapper Riff Raff also offer their own strains of cannabis.