Illinois: Governor Likely To OK Marijuana Decriminalization Bill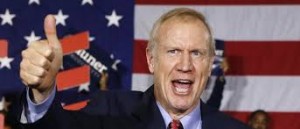 By Derrick Stanley
Hemp News
Illinois Governor Bruce Rauner said Thursday he would "probably be comfortable with" a proposed bill that would decriminalize possession of small amounts of marijuana.
The bill was approved by the Illinois House on Wednesday in a 64-50 vote. It was passed by the Senate in April with a 40-14 vote. The bill would ensure that no one in Illinois could be criminally charged for possession of 10 grams or less of marijuana.
Gov. Rauner vetoed a bill last year to make possession of up to 15 grams of weed a ticketable offense. He said the bill would allow people to carry too much pot and that fines should be more than $55 to $125.
Sen. Heather Steans, D-Chicago, sponsored the new Senate version of the bill which would allow people caught with 10 grams of marijuana or less to face slightly larger fines of $100 to $200.
Tickets would be expunged automatically twice a year.
Possession of up to 2.5 grams is considered a class C misdemeanor under current law, and can be punished by up to 30 days in jail and a possible $1,500 fine. Possession of more than 2.5 grams is punishable by up to 6 months in jail and a $1,500 fine.
Illinois would become the 21st state to decriminalize marijuana possession if Rauner signs the bill.