Illinois: Lawmakers Introduce Bill To Legalize Recreational Marijuana For Adults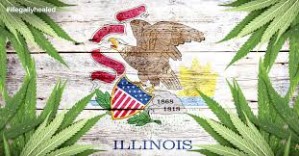 By Derrick Stanley
Hemp News
Identical legislation was introduced Wednesday to legalize and tax recreational marijuana for adults in Illinois by State Senator Heather Steans (D-Chicago) and Illinois State Representative Kelly Cassidy (D-Chicago).
Senate Bill 316 and House Bill 2353 would legalize the possession of up to 28 grams of cannabis and would allow facilities to sell marijuana to adults over 21 years of age and tax those sales "in a manner similar to alcohol."
Steans said the taxes collected from marijuana sales would help solve the state budget recover.
"Legalizing and taxing marijuana will not and should not solve all of our budget woes, but it should be a part of the conversation about resolving Illinois' worsening budget problems. Every bit of new revenue will help to close the governor's $5 billion budget gap," she said.
Steans pointed out that Oregon collected more than $60 million in new tax revenue from the sale of marijuana, and Colorado, which legalized recreational marijuana in 2012, collected more than $140 million in 2016 from legal marijuana sales.
Steans introduced legislation last year to decriminalize possession of up to 10 grams of marijuana, which is now the law. Illinois began its medical marijuana program in 2013.