Kentucky: Agriculture Commissioner Objects To USDA Rules On Industrial Hemp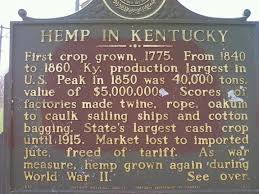 By Derrick Stanley
Hemp News
Kentucky's Agriculture Commissioner is asking the United States Department of Agriculture to reconsider its latest set of rules regarding industrial hemp.
A provision in the 2014 Farm Bill allowed states to grow hemp for research purposes, but did not remove the marijuana-related plant from the controlled substances list, giving federal agencies authority over restrictions.
Ryan Quarles said last month that he would be reviewing the USDA's 'Statement of Principles' to see how it relates to Kentucky's own pilot hemp research program.
Quarles sent a letter yesterday to the USDA, saying he now has several objections in that several aspects of the principles contradict Congress' original intent and "could hinder industrial hemp's economic potential" in Kentucky.
Quarles says the new rules name the only economically viable parts of the hemp plant as the "fiber and seed" to only be used for industrial applications. Quarles says that over half of Kentucky's hemp acreage harvests cannabidiol - a hemp oil that comes from neither the fiber or seed, and that the 'industrial application' provision would also mean hemp could not be used in a drug, as a food ingredient or for artistic purposes.
He also takes issue with the USDA's declaration that hemp seeds and plants may not be transported across state lines.
Kentucky's industrial hemp pilot research program began three years ago and incorporates more than 2,000 acres across the state, half of which is used to harvest cannabidiol.