Indiana: Lafayette Rally Calls For Marijuana Legalization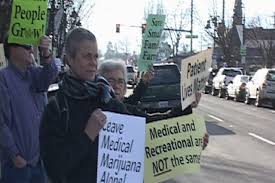 By Derrick Stanley
Hemp News
Several dozen people gathered Wednesday on the steps of the Tippecanoe County Courthouse to send a message to lawmakers: it's time Indiana joined other states in legalizing marijuana.
Twenty states now allow medical marijuana; four states plus the District of Columbia allow recreational marijuana for adults. Ohio took a step closer yesterday to allowing medical marijuana when the House of Representatives passed a bill 71 to 26.
"It's time for us to get with the days, get with the times and make it legal; regulate it," said David Phipps with The Higher Fellowship.
"Let's benefit from the tax dollars. Let's get these patients the medicine they need. Let's get the farmers yet another crop that they can be growing. Let's do this good thing for our state," Phipps added.
Some folks at the rally supported medical marijuana but not recreational.
"I just don't think it's that necessary, honestly. If you really don't need it, why would you do it, right?" said Crystal Gaeta. She said she saw it do wonders for friends coping with the effects of chemotherapy to treat cancer.
Supporters of marijuana legalization said it's time to vote in new lawmakers if the current ones won't consider the issue.