Louisiana: House Passes Medical Marijuana Legislation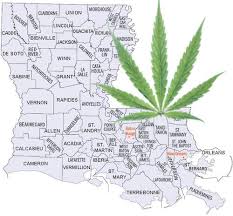 By Derrick Stanley
Hemp News
The Louisiana House of Representatives on Wednesday, May 11, passed medical marijuana legislation to allow patients access to the drug which was first legalized for medical use in the late 1970s.
The bill passed with a wider margin than expected, 61-32, and now heads back to the Senate, where the bill is expected to pass with minor change.
"The wait was excruciating, but so worth it," said medical marijuana advocate Katie Corkern, who wants to treat her son Connor's epilepsy with the drug. "I woke up this morning and was thinking, it's not going to pass because I've been doing so much research. There were people who I thought were definitely going to vote for it who changed their minds."
The legislation seeks to provide an oil derived from the marijuana plant with extremely low levels of the chemicals that make it a psychotropic drug. Doctors would be able to "recommend" the drug rather than prescribe it, so that they can avoid risking their DEA license allowing them to prescribe narcotics.
The passage of the new legislation followed much debate. Many expressed concern that medical marijuana is a path to full legalization, which the bill's author, Fred Mills, has denied. Mills, a Republican, has said the bill is tightly written to prevent recreational use.
State Rep. Sherman Mack proposed making medical marijuana possession a felony to prevent the drug getting into the wrong hands.
"Lets do something to safeguard that," Mack, an Albany Republican said. "Let's make sure it's going to the intended purpose, which is to help sick kids."
But Rep. Tanner Magee, R-Houma, objected to Mack's proposal, saying it would only lead to more people being imprisoned for drug use.
"Haven't we led to the highest incarceration rate in the world?" Magee said. "You are only adding to a failed strategy."
State Rep. Nancy Landry, R-Lafayette, pointed out that penalties for marijuana possession were lowered in the state just last year.
Mack's proposal finally failed on a 32-62 vote.
It is expected to be 18 months to two years before patients actually have access to the drug. Southern University and LSU have a right of first refusal to produce the drug they must exercise by September. The state would allow private entities to produce the drug if the universities decline.