Maine: Marijuana Opponents Start Recount, But Fail To Staff Enough Volunteers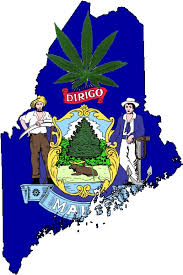 By Derrick Stanley
Hemp News
The State of Maine passed Question 1 on Election Day with a narrow margin of just under 3,000 votes, legalizing marijuana for recreational use. Opponents of legal marijuana in the state have called for a recount, a process that could take a month and cost the state an estimated half a million dollars. But opponents didn't provide enough volunteers to recount the votes for the first two days.
The Portland Press Herald reported that the The Yes on 1 campaign, which backed the initiative that appears to have legalized recreational marijuana, criticized the No on 1 side and said the shortage of counters had slowed the tedious process of hand counting ballots.
State elections officials said Wednesday the process is back on track after a slight delay at the beginning, and that state staff and other volunteers filled in when necessary. While the state asks each side to provide equal numbers of volunteer counters, there is no state law requiring the No on 1 campaign to provide a certain number of volunteers in order to proceed with the recount.
While the law doesn't require a certain number of volunteers, it would only seem logical for opponents to provide enough volunteers to actually perform the recount they want to happen.