Washington, DC: Marijuana Crusaders To Demonstrate At White House Again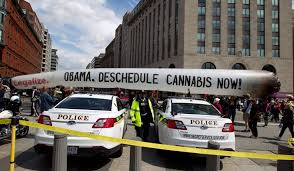 By Derrick Stanley
Hemp News
Marijuana activists say they will smoke pot outside the White House again this Friday, following an April protest that resulted in lots of media coverage but only two citations.
DCMJ, the group behind Initiative 71, say it's organizing a demonstration outside of 1600 Pennsylvania Ave. on May 20 at 5:20 PM. May 20th is the 124th anniversary of Harry Anslinger's birth. Anslinger was the first commissioner of the Federal Bureau of Narcotics, and drafted the "Marihuana Tax Act" in 1937 that effectively criminalized weed.
The group will not be bringing back the infamous 51-foot inflatable joint that was present at April's rally "due to the serious nature of this demonstration."
"We want the Obama administration to take cannabis reform seriously, so we are dressing seriously," the group writes in a newsletter. "If you are a military veteran, we urge you to wear your service uniform tomorrow. If you are a civilian, please wear a suit and tie or a button-up shirt. Dress up for your mugshot! Too often there is a stereotype of cannabis reform advocates as not serious, but you can help change that perception by simply dressing up to get down."
At 6 p.m., the group continues, there will be "a mass die-in" at the White House gates to represent veterans who die from suicide: "These demonstrators plan to remain there until the Obama administration changes course or they are arrested by the police— whichever happens first."