Massachusetts: Towns May Try To Block Local Pot Shops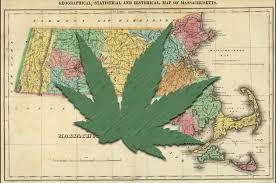 By Derrick Stanley
Hemp News
Less than a week after Massachusetts voters legalized marijuana for adults, cities and towns across the state are exploring ways to limit or even snuff out marijuana shops in their communities.
"I'm dead set against it," said Mayor Stephen N. Zanni of Methuen, who wants to ban marijuana retailers from opening in his city, where 52 percent of local voters opposed the ballot question. "I don't think it's an appropriate fit here for our community."
Marijuana advocates worry that municipal officials are acting rashly to restrain sales of the drug, even though voters statewide just approved Question 4 by a decisive 54 percent to 46 percent.
"I would not want to see a handful of town officials controvert the vote of the people of Massachusetts," said Jim Borghesani, a spokesman for the legalization campaign. "What we don't support is rushing out of the gate out of paranoia and hysteria."
Under the new law, recreational use of the drug will become legal on Dec. 15, and marijuana shops can open in January 2018.
The law also gives cities and towns several options to push back, however.
It allows communities to ban marijuana shops through local referendums. Local officials may also adopt rules that limit the number of shops to 20 percent of the number of liquor stores in their community. In addition, communities can restrict the shops' location, hours, and signage.
Mayor Thomas P. Koch of Quincy opposed legalization, and indicated that he is open to launching a local ballot question to ban marijuana shops, even though voters in his city approved Question 4 by 51 percent to 49 percent, said Chris Walker, a spokesman.
"The mayor's never shied away from difficult decisions," Walker said. "If he feels it's in the best interests of the city to put it back before the voters, then he's certainly going to do that. He thinks a more robust dialogue about the implications could have a different result locally."
Boston Mayor Martin J. Walsh opposed Question 4, but it passed with the support of 62 percent of Boston voters.
"While the mayor did not support the legalization of recreational marijuana, he respects the will of the voters and will make sure the law is implemented in a way that best serves the city of Boston and its residents," said Bonnie McGilpin, a Walsh spokeswoman.
Braintree Mayor Joseph Sullivan said he is looking at several options, including trying to opt out of the law through a local ballot question. Voters in his city opposed Question 4 by 54 percent to 46 percent.
"We're essentially forced into this despite the fact that we said 'No,' " Sullivan said.
Mayor Ken Gray of Amesbury said he is concerned that a cluster of marijuana shops will open in his city on the New Hampshire line, luring customers just as New Hampshire fireworks shops attract buyers from Massachusetts.
"Fireworks are one thing; marijuana is another," said Gray, who supported Question 4. "I'm concerned with how it affects our quality of life in the city." He said that rather than seek a local ban, however, he would look to limit the location and number of shops. "My sense is to try to be pragmatic about it," he said.
Geoff Beckwith, executive director of the Massachusetts Municipal Association (which opposed Question 4), said that local officials are dealing with a number of issues on how to regulate and tax marijuana.
"I think there clearly will be growing concern and focus at the municipal level, and more and more communities will be looking for these issues to be addressed," he said. "The whole referendum question is fraught with problems that completely tip the scales toward the commercial marijuana industry and against the ability of communities to say 'no' if they don't want a pot shop."