Massachusetts: Elizabeth Warren Still 'Open' To Legalizing Marijuana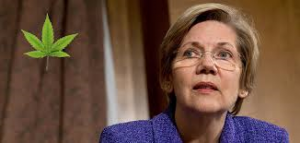 By Derrick Stanley
Hemp News
Sen. Elizabeth Warren said Thursday that she would be "open" to the idea of legalizing recreational marijuana, but would not give an endorsement of the state ballot question seeking to legalize. She had made comments last year expressing her openness to the idea of legalization.
"Massachusetts is in a very difficult position, because we have decriminalized marijuana, but that means it's fairly widely available," Warren said Thursday. "But there's no real regulation of it…and I think what we really need is to have some regulation of it, and that means I would be open to the possibility of legalizing marijuana in Massachusetts."
Massachusetts decriminalized small amounts of marijuana in 2008 through a ballot initiative, and approved medical marijuana the same way in 2012. When asked if she supports Question 4 she reiterated her call for greater regulation.
"What I just said is that I would be open to it because I think that the problem we've got right now in Massachusetts is that we've decriminalized it which makes marijuana available but there's no regulation over it for safety," she said.
Warren said the Drug Enforcement Agency's recent decision to keep marijuana labeled as a Schedule I drug, alongside heroin and LSD "just makes no sense at all." This federal classification prevents researchers from further studying medical marijuana, despite the fact that recreational marijuana is legal in four states and medical marijuana in 25 states.
Opponents to legalizing marijuana in Massachusetts include Gov. Charlie Baker, Boston Mayor Marty Walsh, and Attorney General Maura Healey. Proponents of Question 4 include City Council President Michelle Wu, Councillor Tito Jackson, and former Gov. Bill Weld.