Ontario: Cannabis Culture Dispensary Back In Business One Day After Police raid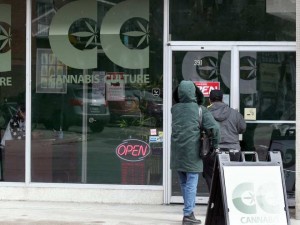 By Derrick Stanley
Hemp News
The Cannabis Culture marijuana dispensary in Ottawa, Ontario reopened recently one day after a police raid had closed it down.
The shop had just opened about three weeks ago.
Police arrested five men at the shop Thursday morning and charged them with five counts of possessing a Schedule II substance for the purpose of trafficking (marijuana, THC oil, THC shatter, hashish and CBD oil) and one count of possessing the proceeds of crime under $5,000.
A spokesman for Cannabis Culture said Thursday night that the shop would reopen as soon as possible.
Customers were visiting the shop again by 10:30 am Friday.
Activists Marc and Jodie Emery, the couple that founded Cannabis Culture, have been granted bail.
Marc Emery faces 15 charges, including conspiracy to commit an indictable offence, trafficking, possession for the purpose of trafficking, and possession of proceeds of crime, while Jodie Emery is charged with five similar counts.