Washington, DC: Spicer Says Expect To See 'Greater Enforcement' On Recreational Marijuana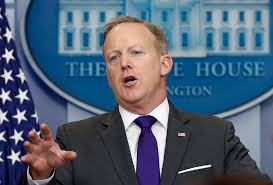 By Derrick Stanley
Hemp News
White House spokesman Sean Spicer said Thursday that states should expect to see greater federal enforcement of laws against the use of marijuana for recreational purposes.
While taking questions from reporters at the daily briefing, Spicer was asked if the government would take action on recreational marijuana use. Spicer replied: "Well I think that's a question for the Department of Justice. I do believe you'll see greater enforcement of it. Because again there's a big difference between the medical use ... that's very different than the recreational use, which is something the Department of Justice will be further looking into."
President Donald Trump "understands the pain and suffering that many people go through who are facing especially terminal diseases, and the comfort that some of these drugs, including medical marijuana, can bring to them," he said, also noting previous action by Congress not to fund the Justice Department "go[ing] after those folks."
As for "recreational marijuana, that's a very, very different subject," Spicer said.
Ignoring recent studies which suggest marijuana can help ease the opioid addiction crisis affecting some areas, Spicer went on to actually connect marijuana to the opioid crisis.
"When you see something like the opioid addiction crisis blossoming in so many states around this country, the last thing we should be doing is encouraging people," he said.
Advocacy groups have been quick to respond to Spicer's announcement Thursday.
Aaron Smith, executive director of the National Cannabis Industry Association, issued a statement saying that "it would be a mistake for the Department of Justice to overthrow the will of the voters and state governments who have created carefully regulated adult-use marijuana programs. "The executive director of the Cannabis Business Alliance, Mark Malone, pointed out the results of a study that concluded that legalizing medical marijuana might actually decrease opioid use.