U.S.: Sen. Elizabeth Warren Works To End Banking Limbo For Pot Shops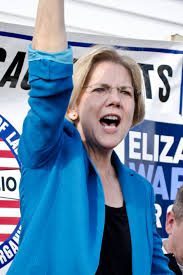 By Derrick Stanley
Hemp News
As more marijuana shops open in states that have legalized the drug, they struggle with no access to the banking services that other businesses routinely enjoy.
Democratic Massachusetts U.S. Sen. Elizabeth Warren is leading an effort to make sure legal marijuana businesses don't have their banking services taken away.
Warren and other leaders are working to bring the growing $7 billion marijuana industry in from a fiscal limbo in which they deal solely in cash, making them easy targets for criminals.
After voters in Warren's home state of Massachusetts approved a measure to legalize marijuana for adults 21 and over, she and nine other senators sent a letter to the Financial Crimes Enforcement Network, asking it to issue additional guidance to help banks provide services to marijuana shop vendors.
Warren, a member of the Senate Banking Committee, said there are benefits to letting marijuana-based businesses move away from a cash-only model.
"You make sure that people are really paying their taxes. You know that the money is not being diverted to some kind of criminal enterprise," Warren said recently. "And it's just a plain old safety issue. You don't want people walking in with guns and masks and saying, 'Give me all your cash.'"
A spokesman for the Financial Crimes Enforcement Network said the agency is reviewing the letter.
The U.S. Department of the Treasury gave banks permission two years ago to do business with legal marijuana entities under some conditions. Since then, the number of banks and credit unions willing to handle marijuana money rose from 51 in 2014 to 301 in 2016.
But Warren said that fewer than 3 percent of the nation's 11,954 federally regulated banks and credit unions are serving the cannabis industry.
Taylor West, deputy director of the National Cannabis Industry Association, said access to banking remains a top concern.
"What the industry needs is a sustainable solution that services the entire industry instead of tinkering around the edges," West said. "You don't have to be fully in favor of legalized marijuana to know that it helps no one to force these businesses outside the banking system."