Tennessee: Legislature Blocking Cities' Push To Ease Marijuana Punishment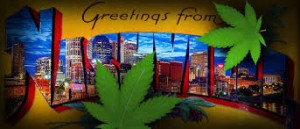 By Derrick Stanley
Hemp News
As several states and cities seek to ease criminal punishment for marijuana possession, Tennessee's Republican legislature is blocking such efforts in Memphis and Nashville.
Police in those cities could soon be losing their option of issuing a minor citation to individuals found to possess small amounts of marijuana.
Tennessee legislators have agreed to bar cities from issuing civil citations for marijuana possession.
The ban would conform to proposals by the Trump administration to step up federal enforcement of marijuana laws.
"I am definitely not a fan of expanded use of marijuana," U.S. Attorney General Jeff Sessions said recently. "But states, they can pass the laws they choose. I would just say, it does remain a violation of federal law to distribute marijuana throughout any place in the United States, whether a state legalizes it or not."
Memphis and Nashville recently authorized their police officers to issue a civil citation for a $50 fine or community service to someone caught with a half ounce or less of marijuana.
Tennessee law currently imposes a misdemeanor charge for possession punishable by up to one year in jail and a $2,500 fine for people caught with a half ounce or less.
Nashville Mayor Megan Barry said she understands lawmakers' desire to keep drug laws uniform, but hopes for a larger discussion on marijuana statewide.
"There is growing bipartisan consensus that we must revisit and reduce criminal penalties for the possession of small amounts of cannabis," Barry said in an emailed statement.