Utah: LDS Leaders Ask Mormons To Oppose Legalization Of Recreational Marijuana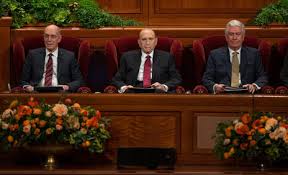 By Derrick Stanley
Hemp News
The LDS Church's First Presidency is asking the church's members in three western states to oppose bills that would legalize recreational marijuana.
In letters sent Wednesday to Arizona, California, and Nevada, Church President Thomas S Monson and his counselors said, "We urge church members to let their voices be heard in opposition to the legalization of recreational marijuana use."
"Drug abuse in the United States is at epidemic proportions," the First Presidency noted, "and the dangers of marijuana to public health and safety are well documented. Recent studies have shed light particularly on the risks that marijuana use poses to brain development in youth. The accessibility of recreational marijuana in the home is also a danger to children."
Four states and the District of Columbia have legalized recreational marijuana use for adults over 21. On Nov. 8, Nevada residents will vote on Question 2, Arizona residents will consider Proposition 205 and Californians will decide on Proposition 64. Maine and Massachusetts also have recreational marijuana on voters' ballots next month.