Delaware: Advocates Push For Marijuana Legalization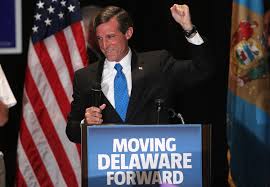 By Derrick Stanley
Hemp News
Several speakers urged Delaware Gov. John Carney to change his mind and support the legalization of marijuana Wednesday at a roundtable discussion at Delaware Technical Community College's Wilmington campus.
"It's time for this natural, organic, pure plant to be set free," said Hector Ortez, a cancer survivor from Camden. "Everyone should have the human right to use cannabis legally. We are not criminals unless the law makes us criminals."
Carney stayed mostly quiet as legislators, advocates and residents lauded the proposed Delaware Marijuana Control Act.
The governor has voiced his opposition to the bill but says he is willing to hear from all sides. "I'm here to listen," Carney said at the outset of the discussion.
"Times are changing," said state Rep. Helene Keeley, D-South Wilmington, sponsor of the bill that would legalize, tax and regulate marijuana. "As people become more educated and get past misconceptions, there has been growing support."
tate Sen. Margaret Rose Henry, D-Wilmington East and the bill's Senate sponsor, said it was an issue of "criminal and social justice."
"If you look at our prison system, there are a lot of people in jail for low-level drug crimes that don't belong there," Henry said. "If this legislation passes, we won't be arresting people unnecessarily."
Zoe Patchell, of the Cannabis Network, argued "cannabis prohibition" is a policy just as costly and counterproductive as the prohibition of alcohol in the 1920s.
"Delaware wastes millions of dollars arresting people like myself who choose a healthier, safer alternative to alcohol," she said.
John Nichols, a Middletown resident who opposes legalization, called on Carney to hold a similar roundtable with opponents.
"We will," Carney said. "I want to keep an open mind and hear from the other side. If we're going to do this, we ought to do it with our eyes wide open and we ought to do it in a way that addresses some of the serious potential problems that exist."