Alabama: Congressman Running For Sessions's Senate Seat Backs Medical Cannabis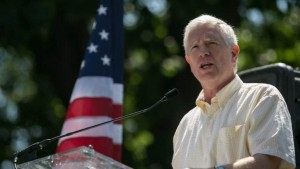 U.S. Attorney General Jeff Sessions is a fierce opponent against states to set their own cannabis laws without federal interference, but new Alabama Senate seat hopeful endorses cannabis legislation
By Michael Bachara
Hemp News
A leading candidate for Sessions' former seat representing Alabama in the U.S. Senate, Congressman Mo Brooks (R), is making support for cannabis law reform an important part of his platform.
"Medical cannabis should be treated like any other treatment that saves lives or eases pain and symptoms. In a land of freedom and liberty, that decision is best kept between a doctor and a patient," Congressman Brooks said at a press conference. "That is what I believe. That is how I will vote in the Senate. That is how I have voted in the House."
Rep. Brooks stated, "While there are many issues in this Senate race, I mention one that is very important to Dominic Gentile," before reading a statement articulating his support for states' cannabis rights.
Rep. Brooks also posted his views on Twitter: "Medical cannabis should be treated like any other treatment. It's a big issue for Gentile, who supports medical marijuana."
"I am a firm supporter of the Constitution's 10th Amendment states' rights provision," Rep Brooks explained. "As such, medical treatment decisions are not the federal government's right to dictate. That decision should be left to state governments, their elected officials, doctors, and patients."
Brooks's, who is running for the Republican nomination against Sen. Luther Strange, Alabama's attorney general until then-Gov. Robert Bentley appointed him to fill the Senate seat vacancy after Sessions was confirmed as U.S. Attorney General.
The Republican primary will be held on August 15, with a runoff scheduled for September 26, if deemed necessary. The general election will be held on December 12 and proves to be a pivotal year in Alabama politics.
In 2014 and 2016, Rep. Brooks supported amendments, but voted against a similar proposal in 2015, on the issue of allowing military veterans to receive medical cannabis recommendations through the U.S. Department of Veterans Affairs. Rep. Brooks also publicly supported a measure aimed at protecting state CBD medical cannabis laws.
Senator Strange hasn't yet had the chance to vote on any cannabis measures, but as Alabama Attorney General, he defended a life sentence given to a 76-year-old man convicted of possessing marijuana that was allegedly grown for personal use.
Photo Source: Heavy dot com