U.S.: Attorney General Jeff Sessions War On Cannabis Needs To End, Says ALCU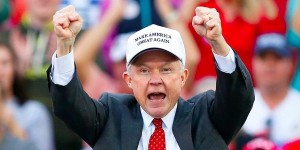 Our top law enforcement official is a criminal justice dinosaur who has a history of endorsing ineffective policies and racist political rhetoric, says American Civil Liberties Union (ACLU)
By Michael Bachara
Hemp News
Forty-six years ago, when President Richard Nixon declared drug abuse to be "America's public enemy number one", decades of harmful and misguided rhetoric began. In an op-ed last Friday, Attorney General Jeff Sessions touted misleading statistics and called for tougher sentencing. The propaganda is AG Sessions latest effort to escalate the War on Drugs and undo medical and recreational cannabis laws.
The War on Drugs, our country's most shameful attack on families and communities, locks up millions of people in prison for drug offenses and ends in mass incarceration. Today in America, more than five million children have had a parent incarcerated at some point growing up, according to the ACLU.
Attorney General Jeff Sessions wants to reignite draconian War on Drug policies and undo progress made over the last decade. AG Sessions is on a mission to place as many people as possible behind bars and is touting War on Drugs policies that target Black and Brown communities and low-income people.
The ACLU's Campaign for Smart Justice has been working relentlessly across the country to combat racial disparities in the criminal justice system. The organization has a goal to cut the U.S. jail and prison population by 50 percent over the coming years.
"We need smart criminal justice reforms – not regressive policies that hurt families," Anthony D. Romero of the ACLU said in a release.
If you have not already done so, please add your name to an ACLU petition letting AG Jeff Sessions citizens won't give into reigniting the racist and destructive policies that fueled mass incarceration.
Photo Source: Google Image