United States: Attorney General Sessions Asked Congress To Allow DOJ To Prosecute Medical Cannabis Providers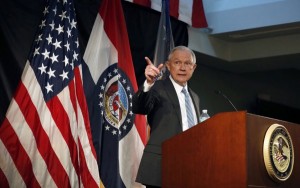 By Michael Bachara
Hemp News
According to a recent letter to Congress, Attorney General Jeff Sessions is asking congressional leaders to undo federal medical marijuana protections within The Rohrabacher-Farr amendment, a bill which has significant bipartisan support in Congress.
The Rohrabacher-Farr amendment protections prohibit the Justice Department from using federal funds to prevent certain states "from implementing their own State laws that authorize the use, distribution, possession or cultivation of medical marijuana."
In Sessions' letter, obtained by Tom Angell of Massroots.com, Sessions argued that the amendment would "inhibit [the Justice Department's] authority to enforce the Controlled Substances Act."
In the new letter to Congress, the attorney general wrote that marijuana use has "significant negative health effects," arguing that is "linked to an increased risk of psychiatric disorders such as psychosis, respiratory ailments such as lung infections, cognitive impairments such as IQ loss, and substance use disorder and addiction."
Sessions' letter also stated: "I believe it would be unwise for Congress to restrict the discretion of the Department to fund particular prosecutions, particularly in the midst of an historic drug epidemic and potentially long-term uptick in violent crime. The Department must be in a position to use all laws available to combat the transnational drug organizations and dangerous drug traffickers who threaten American lives."
Rep. Dana Rohrabacher (R.-CA) said, "Mr. Sessions stands athwart an overwhelming majority of Americans and even, sadly, against veterans and other suffering Americans who we now know conclusively are helped dramatically by medical marijuana."
Rep. Earl Blumenauer (D.-OR), a member of the Congressional Cannabis Caucus, remains confident the cannabis industry protection will survive attempts by Sessions to kill it because of the "broad bipartisan support" for the measure within Congress.
"It's definitely something to be alert to, but when you look at this administration, it's constant whiplash," said Rep. Bluemenauer's Press Secretary, Nicole L'Esperance. "They say one thing and do another … so it's hard to take one action as an indication of a broader policy issue."
John Hudak of the Brookings Institution characterized the letter's arguments as a "scare tactic" that "could appeal to rank-and-file members or to committee chairs in Congress in ways that could threaten the future of this Amendment," in an email.
Sessions' letter, along with a signing statement from President Trump indicating some skepticism of medical cannabis protections, "should make everyone openly question whether candidate Trump's rhetoric and the White House's words on his support for medical marijuana was actually a lie to the American public on an issue that garners broad, bipartisan support," said Hudak.
Last year, the then-U.S. senator from Alabama said, "good people don't smoke marijuana."
Sessions newly formed drug task force, which will introduce policy changes and issue recommendations, is due to be released on July 27.
Photo Source: Google Image