U.S.: Attorney General Sessions Seeking to Revive D.A.R.E. Program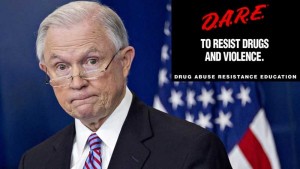 By Michael Bachara
Hemp News
U.S. Attorney General Jeff Sessions is advocating to reinstate the D.A.R.E. program, an ineffective anti-drug curriculum launched in 1983 by the Los Angeles Police Department during the Reagan administration.
"Marijuana laws in America are broken," said Sen. Cory Booker, reintroducing a bill that would let some state cannabis laws supersede federal prohibition.
"D.A.R.E. is, I think, as I indicated, the best remembered anti-drug program today," AG Sessions said while speaking at the Drug Abuse Resistance Education International Training Conference in Texas earlier this month. "In recent years, people have not paid much attention to that message, but they are ready to hear it again."
"We know it worked before and we can make it work again," Sessions continued.
The program is making a comeback in several communities in Weymouth, MA, and Lake County, FL, among other areas, according to D.A.R.E.'s website.
Sessions says the Department of Justice will work with state and local authorities, along with D.A.R.E., to stop drug dealers in communities.
"We need you," AG Sessions said. "We need D.A.R.E. to prevent them from finding new victims. We need your strong leadership to deny them new customers."
The National Criminal Justice Reference Service found in a 1988 report, the program did not reduce substance abuse.
D.A.R.E. is funded largely as a crime prevention program working through education within schools. Over the years contributors have included the U.S. Department of Justice, U.S. Department of Defense, U.S. Department of State, U.S. Drug Enforcement Administration, U.S. Bureau of Justice Administration, U.S. Office of Justice and Delinquency Prevention, corporations, foundations, individuals and other sources.
Photo Source: DARE/Rolling Stone