United States: Ben Masel, Freedom Fighter, Dies Too Young
By Paul Stanford, Hemp News Director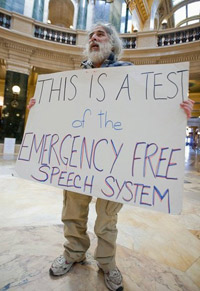 Ben Masel was, beginning in his teens, a leader and activist for freedom and cannabis. Ben was brilliant, incisive and a Grand Master chess champion. He was a seemingly fearless advocate who spent his life supporting others and working for freedom and justice. I am proud and honored to count Ben Masel as an associate, mentor and friend.
Ben was the primary force behind the Great Midwest Marijuana Harvest Fest in Madison, Wisconsin, which happens in late September every year since 1970. Until the Seattle Hempfest emerged in the late 90s, it was the largest pro-marijuana rally in the world. I was honored to speak at the Great Midwest Marijuana Harvest Fest in the late 1980s and early 1990s. It was truly empowering and inspirational to march the half mile from the University of Wisconsin campus down State Street, with 15,000+ others, to the Wisconsin State Capitol in the early Autumn sunshine, the colorful Wisconsin foliage and the crisp clean air. Ben also was a driving force behind Wisconsin's annual Weedstock protestival. The Great Midwest Marijuana Harvest Fest continues today and is still one of the largest pro-cannabis events in the world.
Even with the recent diagnosis of cancer, Ben refused to be pessimistic and joined the charge for worker's rights in massive protests and rallies at the Wisconsin State Capitol earlier this year. His steady work over decades through arrests and lawsuits to open the Wisconsin State Capitol for the Harvest Fest and free speech has enabled union and worker advocates to organize there this year and gain national attention to stop the Wisconsin governor's attempts to limit employee rights. Ben was obviously thrilled by the activism and solidarity.
I met Ben, first at a Yippie! conference in Chicago in 1982, when I was 21 and he was 26. I continued to see him in Washington, DC at Drug Policy Foundation (today's Drug Policy Alliance)and NORML conferences whenever I could afford to go. I most recently saw Ben at our Hempstalk Festival in Portland, Oregon in September 2010, and in August 2009 when my family stopped for the night in Madison. In 2009, Ben came to my hotel and Ben, my wife Theresa and I spent the evening vaporizing and talking about the past and the future. We phoned our mutual friend and activist in Portland, Steve Wessing, and let him know we were together and thinking about him. Ben came to our Hempstalk Festival last fall and spoke about hemp and cannabis. You can see excerpts in the attached links.
In LK's interview at Hempstalk last September, he asks Ben for a final message. Ben's response was quick, short and sweet. Ben said, "Get active!"
Thank you Ben!
Related: United States: Celebrating the Life of Wisconsin Activist Ben Masel
http://hemp.org/news/celebrating-wisconsin-activist-ben-masel


Photo Source: Ben Masel Facebook Page
https://www.facebook.com/ben.masel
Video Source: Hempstalk 2010: L.K. Interviews: Ben Masel - Pardon Marijuana Prisoners
http://www.youtube.com/watch?v=L419x8W5nLI
Video Source: Hempstalk 2010: Ben Masel - Hemp as Energy Source in 1917
http://www.youtube.com/watch?v=auRu0R8d9Tg