Kentucky: 2011 Gubernatorial Candidate Gatewood Galbraith Gains Grassroots Momentum With Willie Nelson Endorsement
"Together we can restore Kentucky to prosperity." Gatewood Galbraith/Dea Riley 2011
By Michael Bachara, Hemp News Correspondent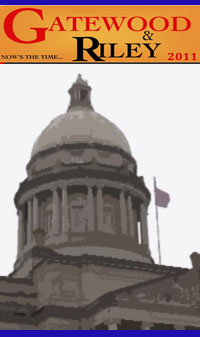 United we stand, divided we fall: Bluegrass State, if you are tired of all the negative political rhetoric taking place in the capitol in Frankfort between both Democrats and Republicans, vote Gatewood/Riley in 2011!
Willie Nelson, creator and spokesperson of the newly formed Tea Pot Party, officially announced the group's first endorsement for a U.S. political race: Independent candidates Gatewood Galbraith and Dea Riley for Governor and Lt. Governor of Kentucky. It is a move sure to shake up the status quo and the Galbraith/Riley ticket would be a fresh beginning for a state aiming to achieve greater economic results. Currently Kentucky's unemployment rate is at an all time high, their poverty ranking has increasing from 15.4 to 17.3 percent over the past eight years under both a Republican and Democrat administration, marking them as the fifth poorest state in our nation.
"I am a longtime friend of Gatewood Galbraith. We crossed Kentucky in a car that ran on hemp fuel one time when he ran for governor. I think the teapot party should back him this time. He is a good man and will do a good job," proclaimed Nelson.
Galbraith added, "I'm so proud to have Willie's endorsement again. He's been a dear friend for many years. I'm equally proud to have the support of the Tea Pot Party members. We have an aroused electorate who are demonstrating their dislike of big government and our campaign in Kentucky this time is primed to succeed because of it."
"We've already received the endorsement of the United Mine Workers of America," Galbraith continued. "This is the first time in their 120-year history that they've ever endorsed Independent candidates. We need 425,000 votes to win this election. We have a winning shot this time if we can raise significant money. We don't need as much as the other guys. We just need to show we are viable. Money does that."
Galbraith and Riley are asking Tea Pot Party members to contribute just $25 each to their campaign as a show of support. They believe now is the time to affect the greatest change in government.
"This endorsement marks the second major endorsement our candidacy has acquired thanks to the tireless efforts of Gatewood Galbraith. He has stood first and foremost for the rights of the people of Kentucky. I'm honored to serve to further Gatewood's lifelong effort. We're very pleased with the ever-growing success of our campaign," said Riley.
Turning around the state's struggling economy will be the duo's first priority. "I think that Kentucky has suffered through these years with a lack of economic development. I think that there's a million categories which I could utilize as an example, but good marketing, utilization of these natural resources for tourism, improvement in healthcare, staying focused on industry, and staying focused on those businesses that are already here and achieving," says Riley on the program "Issues & Answers".
It is the opinion of Hemp News that Gatewood Galbraith is a force for positive improvements in government and could change the state of Kentucky and our country with his forward-thinking ideas, positive view of life and faith in the power of people.
A Note from Gatewood: When people ask....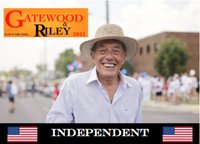 Why do you continue to run - I continue to run not just to express my own convictions but to answer the call of the people who continue to ask me to run in the hope that my election will ensure our government will again begin to work the way our founding fathers intended; to serve as a representative of the people and those laws so brilliantly laid out in order to form the most admired government in the World.
What are your chances at a win - I am in a better position now than ever before. After having run so many times, I recognize that Kentuckians now realize our Commonwealth's continued economic, social and statistical decline is directly related to the victories of my previous opponents and the continuing dysfunctional government plaguing Kentucky election after election.
What party are you - I inform them that I have stepped outside traditional political lines to run as an Independent. An Independent who will serve the agenda of the people and not get caught up in partisanship, bickering and cronyism. I will freely give credit and blame to those who deserve it most.
When I experience skepticism - I remain convinced that together we can in fact affect Real change. Change first comes in the hearts of the people, which in turn will motivate their actions. If my candidacy somehow inspires each of you then I have effected much needed change. My election will mend Kentucky's broken government so that our great Commonwealth and her great People become the example as to how it is done rather than what not to do. I have, more than any other candidate, earned the vote of the people of Kentucky. I will continue to run until Kentuckians are duly served. Together we Can and Will restore Kentucky to prosperity.
When I am told that I am ahead of my time - Well I simply respond - Now's the Time....
For more information about the campaign: Please see http://www.gatewood.com/
Gatewood & Riley 2011 Facebook page: http://www.facebook.com/group.php?gid=96154786018
Tea Pot Party Facebook page: http://www.facebook.com/TeapotParty
Contact: Gatewood Galbraith Candidate for Governor – 859-433-3567
Dea Riley Candidate for Lt. Governor – 502-395-3159
Video Source: http://www.youtube.com/watch?v=RQp33AU8MpU
Source: http://www.facebook.com/photo.php?fbid=1508062349989&set=a.1071545677345...