Oregon: Global Cannabis March Unites Three Legalization Initiatives
By Michael Bachara, OCTA 2012, Sensible Oregon and OMPI Supporter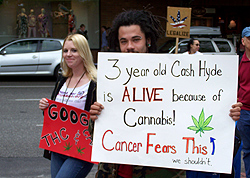 Portland, OR – This weekend, Portland experienced solidarity from multiple cannabis legalization groups as hundreds assembled from across the region to have their voices heard in the 13th Annual Global Cannabis March through the streets of downtown. Complete with a police escort, marchers began and ended in Portland's living room, Pioneer Courthouse Square.
Members of Oregon National Organization for the Reform of Marijuana Laws (Oregon NORML), The Hemp and Cannabis Foundation, Oregon Green Free, National Green Friends and many others participated in the annual event, which is held every year on the first Saturday in May.
As Oregon hemp and cannabis activists move forward with multiple initiatives for November and beyond, it is time for a common bond to unite us all. The legalization of cannabis has an optimistic chance this year to make the Oregon ballot as the Oregon Cannabis Tax Act (OCTA) and Oregon Marijuana Policy Initiative (OMPI) both bear down for the final stretch in signature gathering efforts.
Both OCTA and OMPI have until July 6, 2012 to turn in the required number of signatures, and each campaign is confident they can make it, but will need active participation from Oregon voters.
According to OCTA Chief Petitioner Paul Stanford, "OCTA has currently gathered over 80,000 signatures, and will require 87,213 valid signatures by the deadline."
The OMPI website states that their petitioners have gathered 100,000 of their 185,000 signature goal.
A third initiative, called Sensible Oregon, is in the final stages in their effort to present the upcoming Oregon legislature an official ballot title to the wording that was developed within legislative council. Some in the movement have frowned upon this endeavor, but many believe the proposed law is a good thing for the state.
Here's why: in 2010, Representative Peter Buckley (D) said he was prepared to introduce cannabis legislation if Proposition 19 in California passed. Proposition 19 came within just a few percentage points from becoming reality in the "Golden State", but the legislation was dropped from the agenda of Oregon's "Sensible Policy" politicians.
Explained Anna Diaz, Co-Founder of Oregon NORML, "We haven't made the ballot quite yet with Sensible Oregon, but we believe that if we get a ballot title and the other two measures don't make it, that we can go to the legislature with Sensible Oregon because we asked the legislature to write us a law that would pass, and they wrote Sensible Oregon."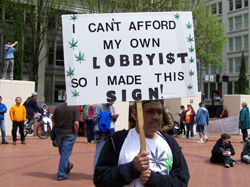 Speaking on stage to the group gathered at the end of the cannabis march at Pioneer Square, Oregon NORML's Hemp Director, Scott Gordon, was enthusiastic for mutual legalization support saying, "Our train in our community is one train, and that's the cannabis train. We all need to get on the cannabis train and chug-a-lug for freedom."
Also on stage, Paul Loney, Oregon NORML's legal counsel, stated, "All we want is freedom and sensible regulation. We just keep pushing for freedom. Whatever groups are out there, it takes everybody. That's the beauty of this country is that there are so many of us out there. There is a group that we can all join and all have the same common cause, which is legalize cannabis."
Attorney John Lucy also spoke at the rally and made a poignant statement that clarifies why we continue to fight for hemp and cannabis legalization. Lucy simply stated, "No one should be in a metal cage for cannabis."
Executive Director of Oregon NORML, Madeline Martinez, spoke of the importance in women standing up for legalization. She said, "Sometimes it just takes women to get it done, like with alcohol prohibition…They're not going to stop us, they're just going to incarcerate us, and it needs to stop, yesterday." Martinez expounded upon the need for women to get involved in groups like the NORML Women's Alliance and support Portland Mom's for Marijuana, and Students for Sensible Drug Policy, joining the fight for legalization.
It would behoove everyone to rally for what they believe is right regarding hemp and cannabis legalization. This fight is not about individual recognition, but is about ending a failed policy of cannabis and hemp prohibition within the United States. Initiatives are a form of direct democracy and must be introduced.
Cannabis proponents agree; the war on the cannabis plant is a farce, the drug war is taking a last gasp. It's time we all stop criticizing others for doing as they see fit. Whichever idea inspires you most, join that effort. Constant infighting within the movement will not support progress; it will only move us backward. Mutual support will be necessary if we are ever to see the day when cannabis freedom permeates our country.
On stage, Attorney Leland Berger said, "Jack [Herer] used to say at gatherings like this, 'Marijuana is not going to re-legalize itself, and if you're not registered to vote, then you're not going to be part of making the change.'"
If Jack Herer would have listened to doubting Thomases, the world would not have seen the resurrection of hemp reform movement as we know it today. Rather than supporting conflict and backsliding into negativity, we must remember that the bridge to legalization is attainable, if we stay the course and keep moving forward together.



Register to vote online at: https://secure.sos.state.or.us/orestar/vr/register.do?lang=eng&source=SOS
Global Cannabis March 2012: Urb Thrasher - It's Time to Unite
http://www.youtube.com/watch?v=BPUH7X7qP0Y
Global Cannabis March 2012: John Lucy - Invoke Your Right to Remain Silent
http://www.youtube.com/watch?v=MoCMgQ6zwwE
Global Cannabis March 2012: Leland Berger - Register to Vote, Make a Change
http://www.youtube.com/watch?v=kLMG51Lg9tk
Global Cannabis March 2012: Anna Diaz - Now Is The Time
http://www.youtube.com/watch?v=jflNQ8Tpofk
Global Cannabis March 2012: Paul Loney - Exercise Your Rights
http://www.youtube.com/watch?v=8D-Tn8yXtMo
Global Cannabis March 2012: Madeline Martinez - End Marijuana Prohibition
http://www.youtube.com/watch?v=cTisOawIvhU