U.S.: Cannabis Activist, Debby Goldsberry, Publishes New Book for Would-Be Entrepreneurs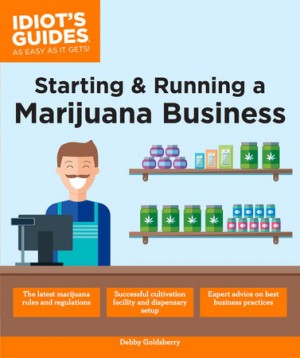 By Michael Bachara
Hemp News
Berkeley Patients Group co-founder, Debby Goldsberry, recently wrote Idiot's Guides: Starting and Running a Marijuana Business, a how-to book on establishing a successful cannabis venture.
As the adult recreational use of marijuana becomes fully legal in California on Jan. 1, Goldsberry, now executive director of Magnolia Wellness in Oakland, decided it was the perfect time to write the book.
"I had just been reading an article that said the best way to build your brand is to write a book," Goldsberry said.
"My idea was to provide the best resource for our community that I could, and that meant going out to content experts and bringing them into the book, too," Goldsberry said.
Goldsberry worked with Doug McVay, the author of Drug War Facts for the chapter on state and federal laws.
Starting and Running a Marijuana Business offers practical advice on setting up a welcoming reception area, raising initial capital, training knowledgeable staff and abiding by local and state laws.
"If you're coming into the industry, you have to be a part of that struggle," Goldsberry continued. "If we don't change federal law, we don't get marijuana businesses, so if you're not ready for that fight, then you probably shouldn't be here."
"I've had the same basic philosophy my whole career: we're fighting a prohibition on a plant that's very helpful; it makes no sense," Goldsberry said. "Government's supposed to make laws based on science, logic, and fact, and instead they made a prohibition based on fear, a lack of science, and downright lies about the effects of medical marijuana."
Goldsberry's goal in the book is to teach the new entrepreneurs who are coming from the outside: there's a philosophy here, and the philosophy is helping people, giving back, changing federal prohibition, ending prohibition, keeping families together, getting people out of prison; and if you're not willing to do that, we don't want your business.
Photo Source: Google Images