California: Dr. Bronner's CEO, David Bronner, Discusses Cannabis Opportunities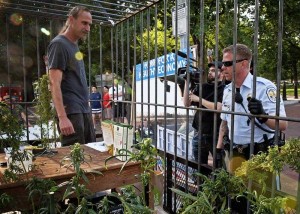 "Cannabis is my daily meditation and ally, keeping me tuned to my higher, deeper self and connected with loved ones and the world around me." - David Bronner, CEO Dr. Bronner's
By Michael Bachara
Hemp News
Dr. Bronner's, a leading natural products company located in California, has been a pioneering force with a strong focus on hemp consumer awareness for decades. The company sees a socially conscious opportunity in cannabis.
In 2000, Dr. Bronner's started using hemp seed oil in its body care products, ranking as one of the first companies to make such a move. The company now showcases soaps, lotions, balms and other personal care products under the USDA National Organic Program.
CEO David Bronner, the grandson of the firm's founder, says,"There is a huge opportunity in the CBD market, but also with food, biocomposites, construction, and clothing."
Bronner, an avid cannabis advocate, says the company sees economic opportunities in the cannabis industry.
In June, Dr. Bronner's announced it would contribute $125,000 in seed-round funding for Cannabis Certification Council, a cannabis industry standards group.
The council, which is comprised of an organic cannabis association and an ethical labor practices organization, provides financial and logistical backing.
"The market and consumer interest in ethically produced, organic and natural products only continues to grow," said Bronner.
Bronner says, "I want to see entities who stay true to the deeper light and love that cannabis can connect us to get big and succeed, and not succumb to the temptation to chase profits at the cost of compromising deeper values."
"Food, supplement and body care products laced with chemicals and synthetic ingredients are increasingly on their way out. People want to buy products they know are good for their bodies, their families, and the earth. Cannabis is no different," Bronner said.
Photo Source: Multidisciplinary Association for Psychedelic Studies