California: Godmother of Marijuana, Lynette Shaw, Back in Business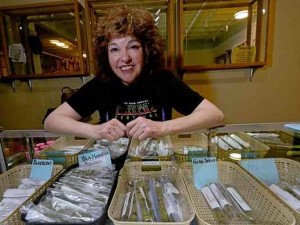 By Michael Bachara
Hemp News
Fairfax, California, a small Marin County town, has a unique business which has been on the forefront of the nascent cannabis industry, Lynette Shaw's Marin Alliance for Medical Marijuana (MAMM) — one of the first medical-marijuana dispensaries in the United States. MAMM, hosted its grand reopening this week, after winning a federal court case that began in the late 1990s. Shaw, "godmother to all the dispensaries", is cherishing the long-awaited homecoming.
"I never married, I never had children. I birthed this, instead," Shaw said. "This is my family. And they're coming back."
Turned on to medical cannabis by Dennis Peron, one of the authors of Prop. 215, California's first-in-the-nation medical cannabis law, Shaw became involved in assisting patients to obtain their medicine. After working in Peron's Cannabis Buyers Club in San Francisco, Shaw chose Fairfax to follow Peron's lead and started selling cannabis to patients in need in 1996.
"I'm the godmother to all the dispensaries," Shaw says. "I'm the founding mother — I birthed the dispensary revolution."
MAMM was the first dispensary to receive a permit; an official license to operate from the Town of Fairfax.
After a long legal battle, Shaw was forced to relocate her business to Southern California until 2014, when Congress passed a budget amendment prohibiting the Dept of Justice from prosecuting medical cannabis providers obeying state law. After the amendment, Shaw came back to Fairfax, sued to reopen in the Fall of 2015, and won.
Photo Source: