United States: Cannabis Is Safer Than Opioids, According To Several Studies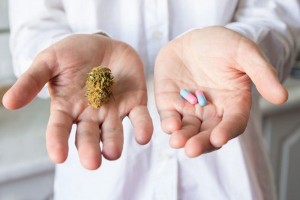 By Michael Bachara
Hemp News
In the midst of an opioid epidemic in the United States, research studies show that using cannabis to treat chronic pain is a safer, less addictive alternative to narcotics.
In 2014, in a study conducted by Johns Hopkins Bloomberg School of Public Health researchers found that "in states where medical cannabis is legal to manage chronic pain and other conditions, the annual number of deaths from prescription drug overdose is 25 percent lower than in states where cannabis use is illegal. The study was published in the Aug. 25th issue of JAMA Internal Medicine.
"We believe patients are substituting the use of opioids with cannabis, which is not associated with overdoses or other clinical risk factors that opioids are associated with, so marijuana may present a safer alternative to opioids," said Brendan Saloner, co-author of the Johns Hopkins study and assistant professor of health policy and management at Johns Hopkins Bloomberg School of Public Health.
"Prescription drug abuse and deaths due to overdose have emerged as national public health crises," says Colleen L. Barry, Ph.D., an associate professor in the Department of Health Policy and Management at the Bloomberg School and senior author of the study. "As our awareness of the addiction and overdose risks associated with the use of opioid painkillers such as Oxycontin and Vicodin grows, individuals with chronic pain and their medical providers may be opting to treat pain entirely or in part with medical marijuana in states where this is legal."
In a 2016 study titled, "Medical Cannabis Use Is Associated With Decreased Opiate Medication Use in a Retrospective Cross-Sectional Survey of Patients With Chronic Pain" researchers at the University of Michigan School of Public Health reported that patients using medical cannabis to combat chronic pain reported a 64 percent reduction in their use of opioids.
Kevin Boehnke, the lead author of the study, said, "Using medical cannabis for chronic pain treatment may benefit some chronic pain patients."
"Opioids present unfavorable side effects that cannabis does not, such as gastrointestinal upsets and constipation. Patients using cannabis reported fewer side effects and better quality of life," Boehnke added.
After analyzing hospitalization records from 1997 to 2014 in 27 states that allowed medical cannabis, a 2017 study out of the University of California-San Diego reported the hospitalization rates for opioid overdoses dropped 13 percent and hospitalization rates for opioid dependence dropped by 23 percent, on average.
"Medical marijuana laws may have reduced hospitalizations related to opioid pain relievers," said study author Yuyan Shi, a public health professor at the University of California-San Diego.
"This study and a few others provided some evidence regarding the potential positive benefits of legalizing marijuana to reduce opioid use and abuse, but they are still preliminary," Shi said.
"Opioids and cannabis work to treat pain differently. While opioids interrupt the pain pathways, marijuana alters the central nervous system and changes a patient's perception of pain," said Anand Thakur, an anesthesiologist and pain specialist at Henry Ford Macomb in Clinton, Michigan.
"Pain is a protective response," Thakur said. "If you get back pain, ask why you have back pain, what is the diagnosis? Back pain and headaches are symptoms. Trying to treat them with just pain medication without a diagnosis is a disservice to patients."
In March, U.S. Attorney General Jeff Sessions, the nation's top cop, reiterated his concerns about marijuana and heroin, an illegal opioid. "I am astonished to hear people suggest that we can solve our heroin crisis by legalizing marijuana," Sessions told law enforcement officers in Virginia, "so people can trade one life-wrecking dependency for another."
From 1999 to 2015, more than 183,000 people have died in the U.S. from overdoses related to prescription opioids. Overdose deaths involving prescription opioids have quadrupled since 1999, according to the Centers for Disease Control and Prevention.
An estimated 60 percent of Americans live in the 28 states and Washington, D.C. where medical cannabis is legal under state law.
Photo Source: Google Image