Washington, DC: Cannabis Legalization Bill Receives Bipartisan Support On Capitol Hill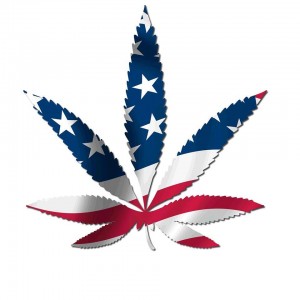 By Michael Bachara
Hemp News
Representative Tulsi Gabbard of Hawaii and Representative Tom Garrett of Virginia held a press conference Wednesday urging Congress to pass H.R.1227, Ending Federal Marijuana Prohibition Act of 2017. The legislators are renewing their efforts as the Trump administration pushes to go after non-violent drug crimes. The bill currently has 11 sponsors.
The bipartisan bill, if approved, would remove cannabis from the federal government's list of controlled substances and put cannabis in the same category as alcohol and tobacco.
Rep. Gabbard said, "Our archaic Federal laws relating to marijuana are hurting people, tearing families apart, turning everyday Americans into criminals, and negatively impacting our economy, all at a tremendous cost to taxpayers as billions are spent on an over-burdened and broken criminal justice system."
"The question before us is not whether you think marijuana use is good or bad, or how you feel about this issue, but whether we should be turning people into criminals," Rep. Gabbard stated.
"Every 42 seconds someone is arrested for the use or possession of marijuana, turning everyday Americans into criminals, tearing families apart," Rep. Gabbard told reporters.
Mr. Garrett, a former prosecutor, told attendees that his previous gig pursuing criminals as Virginia's assistant attorney general gave him a better insight to the failed drug war.
"My background on this issue is shaped by my own experiences as a criminal prosecutor, where in fact, I did enforce the laws of the Commonwealth of Virginia as they relate to marijuana, and some would say, did so quite vigorously," Garrett said.
"I have long believed justice that isn't blind, isn't justice. Statistics indicate that minor narcotics crimes disproportionately hurt areas of lower socioeconomic status, and what I find most troubling is that we continue to keep laws on the books that we do not enforce," Mr. Garrett said, according to The Hill.
A growing number of states have passed voter initiatives in recent years allowing medical and social marijuana. Nine states and the nation's capital have passed laws legalizing recreational cannabis since 2012. More than half the states have medical marijuana laws.
According to the American Civil Liberties Union, about 8.2 million people were arrested on marijuana-related charges between 2001 and 2010. Roughly 88 percent of those arrests were for possession, the ACLU has confirmed.
Contact your elected officials and ask them to support H.R. 1227!