Colorado: Governor Hickenlooper Signs Hemp Bill Protecting Water Stored In Federal Reservoirs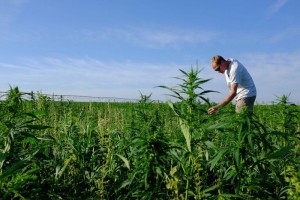 Senate Bill 117, which will protect hemp farmers who use water stored in federal reservoirs, passed 99-1
By Michael Bachara
Hemp News
On Sunday, Colorado Gov. John Hickenlooper signed Senate Bill 117, the Recognize Industrial Hemp Agricultural Product for Agricultural Water Right, into law. The bill, which was introduced in the state Legislature by Sen. Don Coram, and sponsored by Rep. Marc Catlin, will ease complications when water from a federal project is used.
Senator Coram was motivated to introduce the bill after meeting with a farmer in the Arkansas Valley who said he could not use water from a Bureau of Reclamation facility to water his large hemp farm. "I said this is wrong because hemp has a great future in Colorado," Coram said. "The bill passed 99-1."
"The facts are that Colorado water rights are owned under Colorado law, and they can be used to grow hemp, which the state legalized," said Rep. Catlin. "The federal government saying they cannot is an overreach."
The bill protects Colorado water-right holders and allows them to use it on hemp if the person is registered by the state to grow hemp commercially or for research.
During an interview with The Journal, Hickenlooper said the hemp water bill will give farmers some reassurance, and he was cautiously optimistic that it could become a good cash crop for the state.
"Hemp is a very versatile product with a lot of uses, and it does not make sense why it's illegal," at the federal level, Hickenlooper said. "Having it grown and processed in the state could create a new niche market."
"We have a tradition of a bill-signing tour to show what your local legislators are up to," Hickenlooper told a crowd in Cortez.
Industrial hemp is used to make fuel, fiber, building materials, textiles, soaps and food products. In 2016, 1,500 acres of hemp was cultivated in the state, according to Gov. Hickenlooper.
Photo Source: Matthew Staver, The New York Times