Colorado: Illegal Marijuana Grow Operations Busted, More Than A Dozen Arrested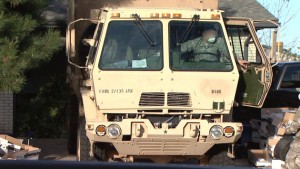 By Derrick Stanley
Hemp News
Approximately 30 Colorado homes and warehouses suspected of having illegal marijuana grows have been raided as part of an extensive law enforcement action Thursday, resulting in more than a dozen arrests.
Many of the raids were conducted in the Denver metro area. Police say the raids are all tied to one illegal operation. The suspects allegedly came from Texas and bought houses in Colorado to grow marijuana in, then ship it out of state for a huge financial gain.
A Colorado National Guard truck had to be called in at a house in Centennial to haul away a large amount of marijuana grow equipment. More than 300 plants were found a that location.
A neighbor told CBS-TV4 that she was shocked to see how big the operation was.
"I can't believe this is happening in this neighborhood. It's just so out of character for the people that live here," Rebecca Rattray said. "I'm a little shocked that there's still a market to grow pot illegally."
Police had to use tear gas to extract a man who had barricaded himself at one location near Colorado Springs.
The activity on Thursday is the culmination of a year-and-a-half long investigation by the North Metro Drug Task Force, the DEA, U.S. postal inspectors and the Colorado Attorney General's office.
Photo courtesy CBS