Alabama: Colorado Marijuana Mogul Caught With Pot; No Smoking For 2 Years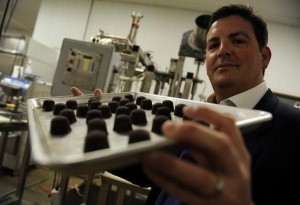 By Steve Elliott
Hemp News
A Colorado man who's behind one of the largest medical marijuana products companies in the state won't be allowed to use cannabis for two years after he pleaded guilty to pot possession in Alabama.
Vincent "Tripp" Keber, managing director of the company which makes the Dixie Elixirs line of cannabis-infused products, pleaded guilty last month to misdemeanor marijuana possession in Baldwin County, Alabama, reports John Ingold at The Denver Post. A second charge of marijuana possession was dropped as part of the plea deal, and the whole case will be expunged if Keber stays out of trouble for the next two years, according to his lawyer, Harold Callaway.
Keber will be required to check in with law enforcement in Alabama daily and submit to random drug tests. If those tests show he has used alcohol, marijuana, or any other drugs, he could face up to a year in jail, according to Martha Simmons with the Baldwin County district attorney's office.
"This is a situation during some vacation where I basically made an error in judgment," Keber said.
Deputies busted Keber on May 18 as he was entering the Hangout Music Festival in Gulf Shores, Alabama, after he was found in possession of a small amount of cannabis concentrate, according to Baldwin County sheriff's Major Anthony Lowery. Keber was also initially held on suspicion of felony possession of cocaine, but that's because local yokel cops mistook a marijuana concentrate for cocaine, according to Callaway.
Dixie Elixirs makes cannabis-infuised oils, sweets and drinks. Keber said he reported the charges to Colorado's Medical Marijuana Enforcement Division, and said he doesn't believe they will impact his company's license.
(Photo of Tripp Keber: RJ Sangosti, The Denver Post)