Global: Building with Hemp
By Paul Benhaim, Hemp News Correspondent/Hemp Building Consultant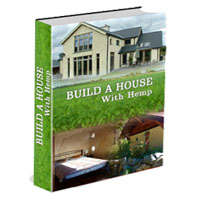 As there are so many applications for hemp and hemp products, so it is not a surprise to find that it can be used to build a house; but the question we need to answer is, is it worthwhile?
Let's look at the facts and see why the answer to this question is undeniably YES!
To begin with, hemp buildings are not a new concept - but the technology necessary is very new and constantly evolving. Although there is a 300 year old hemp-built house in Japan! Hemp building technology was originated in France where most hemp building products come from.
There are several different combination's of building materials used in hemp building:
• Hemp + Lime, Cement and minor wetting agents.
• Hemp + Lime only
• Hemp + Gypsum based binder
The Gypsum composite is the basis for hemp bricks, for building, generally the first method is the most used. The composite should be chosen to suit the climate and specific requirements of the building. Hemp houses exist from the snow of Canada down to the Australian tropics and just about everywhere along the way!
The hemp used in most of these methods is the hurd or shiv, which comprises the woody inner core of the hemp stalks. In theory this predominant part of the hemp stalk is waste. The reality is that the shiv/hurd has become a valuable resource and is in high demand for building composites. Alternative uses for this versatile fibre include absorbency products and animal bedding.
The most popular form of hemp building is based on creating a timber frame on a concrete base, the walls being filled with hemp + binder. Methods do vary depending on the type of binder and the hemp used. Obviously hemp buildings can only be built where a supply of hemp is available.
A method developed in Australia allows for the use of the whole hemp plant. The main benefit to this is that equipment used for decortication - the means of separating the hurd/shiv from the fibre - is no longer required. There are only about 6 commercial decorticators in the world, due to the relatively high startup costs. The lack of need for this offers a major advantage as it allows house builders (or small farm co-ops) to grow their own hemp for building purposes. All that is required is a chaffer or cutter to chop the whole stalk which when combined with a binder produces an infill material that has a proven track record.

Why build with hemp?
To help answer this question, we should take a quick look at the state of the current construction industry:
• 19 % of the carbon footprint left by the UK is a result of building and infrastructure.
• 40% of Australian waste is building waste.
• On average, homes now account for 27% of our families' carbon footprint.
• Buildings use 40% of total energy consumed. This is down from 68% in 2002.
• A significant 5% of the world's greenhouse gases result from cement production.
These facts do not make for good reading so let's look at what hemp properties offer the building industry:
Hemp is a Carbon Positive Resource: Carbon Positive is better than carbon neutral; hemp building is suitable carbon sequestration.
Affordable: Hemp building is very cost-effective, competitive with cheap pre-fab brick veneer.
(Work out your hemp building costs with this handy calculator which can be downloaded from: www.thehempbuilder.com)
Thermally Efficient: Hemp materials are low density and as a result offer impressive thermal insulation properties.
Resistant to Pests: Hemp is rodent resistant and an inherent property of lime/hemp building materials is termite proofing.
Fire Resistance: Fire resistance is another useful property of hemp building materials, making it a safe option in brush-fire prone places.
Impressive Strength: Hemp is very strong and flexural, so in earthquake and tornado zones, hemp building is a safe alternative. Another advantage using hemp is that less building material will be required to reach the same strength as conventional materials would - another boost to the environment and the benefit of cost-savings.
Hypo-allergenic: A hypoallergenic building material, hemp is an ideal choice for those who suffer allergies. Hemp composites form "breathable" walls; which can help to balance the temperature & humidity of rooms so there are no mould problems; mould being a problem that commonly worsens allergy symptoms. This is particularly relevant in areas that have wide ranging temperatures either from day to night, or season to season. Having "breathable" walls creates very comfortable rooms indeed!
Excellent Sound Insulation: The same properties that make hemp a great thermal insulator make it a great sound insulator/barrier too.
Render Friendly: Walls can be finished with regular building renders. Although choosing a breathable render like lime, with coloured minerals also available to mix in, ensuring the benefits of your hemp walls are enjoyed with style.
Recyclable: A hemp wall can be demolished and reused! Alternatively, this material is suitable for direct use as a fertiliser.
Healthy Home Environment: Building biologists have approved this building method and it actually increases the value of your home.
Maintain Future Property Value: Running costs are important to buyers; hemp buildings are low-cost and so retain future value.
Truly Environmentally Friendly: Contrary to many green building materials which still leave a footprint, hemp really is a sustainable and eco-friendly building method.
What will my house look like?
Of crucial importance is that hemp homes do not need to look like 'hobbit homes'. It is possible to build most styles of house from hemp materials, see some examples pictured here in this article.
To see other examples of buildings, find out a lot more about hemp construction techniques, (including access to full construction manuals) and an opportunity to attend a workshop on hemp building; Please visit: http://www.thehempbuilder.com.
Build with hemp today for a better tomorrow!

-----
Bio: Paul Benhaim has been involved in the hemp building industry for over fifteen years. He started Europe's first hemp foods company and the world's first hemp plastics company. He is the author of seven books including "A Modern Introduction To Hemp" and "Growing Hemp For Profit". He is the founder and chairperson of the Australian Hemp Foundation – a national body representing the hemp business in the Southern Hemisphere.


Photo Source: http://www.thehempbuilder.com