California: Democratic Party Platform Calls For Marijuana Legalization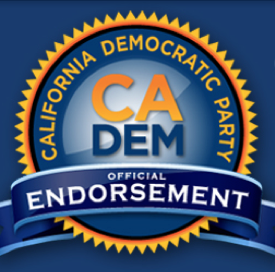 By Steve Elliott
Hemp News
Pointing out that it could put billions of dollars into state coffers and provide much-needed jobs, California Democrats on Sunday insert a plank in their party platform calling to "support the legalization, regulation and taxation of pot in a manner similar to that of tobacco or alcohol," reports the San Francisco Chronicle.
On the marijuana issue, California Democrats "support the legalization, regulation and taxation of marijuana, in a manner similar to that of tobacco or alcohol," the official party platform reads, reports Seema Mehta at the Los Angeles Times.
The change -- a monumental political shift -- comes as 3,000 state Democrats met over the weekend at a three-day convention in Los Angeles, where they heard a Saturday appeal by Lt. Gov. Gavin Newsom on the issue, reports Carla Marinucci at SF Gate. The former San Francisco mayor told the Democrats that the state should be leading, not following, on an important issue that, according to the latest polls, is experiencing a surge of popular support among Americans.
Newsom pointed out that while the Golden State had led the nation back in 1996 when voters approved Proposition 215 -- which legalized medical marijuana in the state -- but it has now fallen behind other states, including Colorado and Washington, in moving to legalize cannabis. He said legalization would have many benefits including boosting state revenue, and diverting needed law enforcement resources and funding away from unnecessary incarceration.
"This is not a debate about stoners," Newsom said. "You can be pro-regulation without being an advocate for drug use."
Newsom's comments appeared to be an indirect response to remarks made by Gov. Jerry Brown, who said on NBC's "Meet The Press" recently that he was worried about too many Californians getting stoned, saying they need to "stay alert."
The state Democratic legalization plank is a "good first step" in creating support for legislation for an industry "that has been growing for some time in California," according to James Araby, executive director of the Western States Council of the United Food and Commercial Workers.
"This industry is here," Araby said, adding that now is the time to "legalize it and regulate it."
Graphic: East Bay Express