United States: Lawyer and Doctor Both Sentenced to Five Years for Following California Law
In 1996, the voters of California passed Proposition 215, which legalized medical marijuana at the state level, so why is the Federal Government continuing the persecution of law-abiding citizens?

By Michael Bachara, Hemp News Correspondent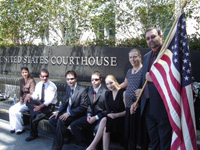 Sacramento, California - In a hearing set before Federal Judge Damrell, Doctor Mollie Fry, MD and her husband, Attorney Dale Schafer were ordered to surrender themselves to United States Federal Marshals on May 2, 2011 at 2:00 PM to begin their five-year minimum mandatory sentence in federal prison.
The married couple's draconian tribulations began in September of 2001, when the police raided their Sacramento home and found 34 plants. The couple thought they were on safe legal ground as they were well below the 90-plant limit established by the local city ordinance for cardholders such as themselves.
After a ten-day trial in 2007, it took a federal jury in Sacramento less than three hours to find them guilty of conspiracy to grow and distribute marijuana. In this landmark case, the prosecution was allowed to add three years of cumulative plants together, totaling approximately 109 plants, thus forcing mandatory federal penalties.
Dr. Fry, recovering from a mastectomy, decided to grow her own cannabis to offset complications from chemotherapy. Schafer, suffering from hemophilia, a chronic back condition and arthritis, is under constant care and cultivated cannabis to alleviate his need for pharmaceutical alternatives.
Schafer, 57, acknowledges that he grew cannabis initially for his wife and himself, and then for some of her patients. He had intended to argue in his case that he did so at the advice of counsel after a 1999 ruling by the 9th Circuit Court of Appeals made "medical necessity" a possible defense for marijuana distribution. Unknown to the defense at the time, the U.S. Supreme Court overruled the 9th Circuit, and Judge Frank Damrell forbade Fry and Schafer from citing their once-possibly-valid belief that "medical necessity" justified marijuana production and sales. To the defendants, it was as if California Proposition 215 did not exist.
Fred Gardner, a reporter for Counter Punch and California Cannabis Research Medical Group wrote in a 2007 article, "Their only remaining hope was that a juror might disapprove of the war on drugs and vote not to convict on principle. Everyone in the jury pool who said they'd heard of California's medical marijuana law got dismissed. Seven women and five men were seated. Two were people of color. One was a paralegal employed by a public defender's office. Opening arguments hadn't concluded before Damrell instructed the jury that any references to "medical" anything were irrelevant under federal law".
"The judge wouldn't allow any medical evidence. They wouldn't let us tell the jury I was sick, or that I was a doctor," Fry said. "They wouldn't allow that I was helping sick patients."
"Cannabis is proven medicine," Fry added. "Why would the state of California create laws based on what the people want, and then allow the federal government to override them? I had cancer; we were growing medicine. I was helping people."
Prosecuting this couple, over the past decade, has cost taxpayers an estimated one million dollars, while other programs lost their needed-funding. What makes this story heart-wrenching is that if these two compassionate individuals had happened to live 60 miles to the south, they probably would have never experienced the cruel mistreatment they are currently facing in Sacramento.
"It's a glaring misuse of our legal system against Dr. Marion "Mollie" Fry and her husband Civil Attorney Dale Schafer," according to a Toke of the Town article by Reporter Jack Rikess. This popular publication concluded, "This isn't an issue of medical marijuana or state budgets; it is a matter of common sense."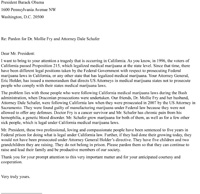 President Barack Obama could pardon this couple tomorrow if he wished; you can leave a message for him at (202) 456-1111.
http://www.whitehouse.gov/contact
Hemp News has made available a pre-written letter to the President, please download it and mail/email it ASAP.
http://www.hemp.org/downloads/pardon-doc-fry-letter.pdf


Related: Time 4 Hemp Interview (4-21-11) - Dr. Mollie Fry and Dale Shaffer, Attorney
http://www.americanfreedomradio.com/archive/Time-4-Hemp-32k-042111.mp3
Sources: Free Doc Fry
http://freedocfry.wordpress.com
Medical Marijuana: California Dr. Molly Fry Sentenced to Five Years
http://stopthedrugwar.org/chronicle/2008/mar/28/medical_marijuana_califo...
The Trial of Mollie Fry, MD - Federal Jury Convicts Pro-Cannabis Doctor
http://www.counterpunch.org/gardner09012007.html
Medical Marijuana Patients to Start 5-Year Prison Term
http://www.tokeofthetown.com/2011/03/medical_marijuana_patients_to_start...
Photo Source: Fry, Schafer and family at August 2007 demonstration (courtesy indybay.org)