Global: Canada Invests In Hemp Processing
Creating a market can present a challenge for producers, but there's a new option on the horizon in Canada: Hemp.
By Michael Bachara, Hemp News Correspondent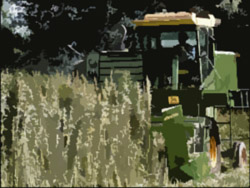 Canada's Agriculture Minister Gerry Ritz announced that the government is investing in Advanced Foods and Materials Canada (AFM) to increase production capabilities of technology that turns flax and hemp straw into high-quality fiber. AFM will invest the money to increase the capacity of the bio refining process.
"These are by-products. Most farmers would rake up their flax straw and burn it in the fall. This now gives them potential value in re-manufacturing of that waste product," stated Ritz.
"When you see something like this that takes a waste by-product and puts the potential of tremendous value into it, it's a no-brainer to invest in those types of strategic initiatives," proclaimed Ritz.
The development of this technology will substantially increase the value per acre of hemp and flax crops by finding uses for parts of plants that are currently considered waste. The group believes the increased production and availability of high-value cellulose products will create living wage jobs in manufacturing, transportation, and research and development, which will in-turn benefit the agricultural sector and stimulate Canada's economy.
This acknowledgement of the value of improving the hemp processing technology by Canada should only serve as an example to the United States to move into the future with hemp. Legalization of hemp farming should be demanded by US farmers and be allowed back into the US economy. Our current condition only limits our options and hinders growth to a sustainable future.
Restore Hemp!