Chile: Psychiatrist Leads Crusade To Legalize Marijuana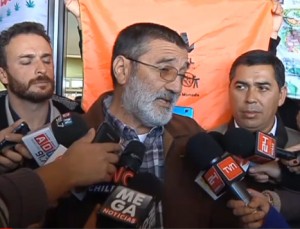 By Steve Elliott
Hemp News
A Chilean psychiatrist known as "Dr. Marijuana" has earned notoriety in his South American nation for his crusade to legalize cannabis.
Dr. Milton Flores, 58, describes cannabis as "a tool and a medicine," reports Rafael Romo at CNN. He says he's used cannabis for years to treat patients with conditions including depression and anxiety -- and he's also smoked pot himself, for 44 years.
Flores is considered Chile's main advocate for cannabis legalization. He also favors legalization of other "entheogens" (psychoactive plants), including peyote, ayahuasca and San Pedro cactus. All were used by local shamans and healers well before the arrival of Europeans in the 16th century.
"Cannabis is neither good nor bad," Flores said. "Its use can be appropriate or inappropriate. It's a tool that can have very significant effects."
Flores has spoken out about his position throughout his career, going to great lengths to make his point. He has even been raided, twice, by Chilean drug enforcement authorities.
In March, police seized several marijuana plants at his mountain home. His case went all the way to the Chilean Supreme Court, but it was dismissed on a technicality. More recently, he was found guilty of growing 116 cannabis plants on his property; he was last week sentenced to 541 days -- more than 18 months -- of probation.
Even though smoking cannabis no longer has the social stigma it once carried in Chile, and possessing it is rarely prosecuted, the nation still bans the production, sale, distribution and large-scale possession of pot.
The country gets pressure from the United States, Colombia and the United Nations to pursue a tough, law-enforcement approach on drugs. But liberal politicians want to distinguish between public health and national security when it comes to drug policy, especially regarding cannabis.
"I'm very proud, and I think it's something that is slowly changing the perspective of many people in different levels in this country," Carola Flores-Fernandez, a 33-year-old doctoral anthropology student at UC-Santa Barbara, said of her father.