Colorado: Appeals Court Approves Retroactive Reversal of Marijuana Convictions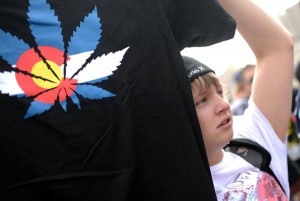 By Steve Elliott
Hemp News
Residents of Colorado who were convicted of marijuana possession before recreational legalization measure Amendment 64 was passed may be eligible to have those convictions overturned, the Colorado Court of Appeals has ruled.
Under Amendment 64, as of January 1, adults 21 and older are allowed to buy up to an ounce of cannabis. But with more than 9,000 marijuana possession cases being prosecuted each year until then, thousands of state residents are now wondering how legalization impacts their previous convictions, reports RT.com.
A three-judge state appeals court panel on March 13 ruled that part of an earlier decision in a case against a Colorado woman sentenced in 2011 for marijuana possession should be vacated.
If "there has been a significant change in the law," there can be post-conviction relief, the appellate court wrote.
"Amendment 64, by decriminalizing the personal use or possession of one ounce or less of marijuana, meets the statutory requirement for 'a significant change in the law' and eliminates and thus mitigates the penalties for persons convicted of engaging in such conduct," the judges wrote.
Colorado Attorney General John Suthers' office will likely appeal the court's ruling, a spokesperson told NPR, but if it stands, it means a substantial number of Colorado residents will have their marijuana possession convictions reversed.
The ruling doesn't affect everyone. The appeals court weighed in on the particulars on the case of Brandi Jessica Russell, a Colorado woman who was sentenced in August 2011 to serve two concurrent four-year terms of supervised probation, 192 hours of community service, and a suspended sentence of 90 days in jail after being convicted of possession of a small amount of marijuana, marijuana concentrate and methamphetamine.
Attorneys for Russell filed an appeal shortly after, but it wasn't heard until after Amendment 64 went into effect on December 10, 2012. Because Russell's case was still undecided, the appeals court said her conviction should be tossed.
"The impact of this ruling is very limited given that possession of an ounce or less of marijuana was already a petty offense subject to a $100 fine," Atty. Gen. Suthers said. "No one should be incarcerated for such a petty offense."