Colorado: Federal Agents and Denver Cops Raiding Medical Marijuana Facilities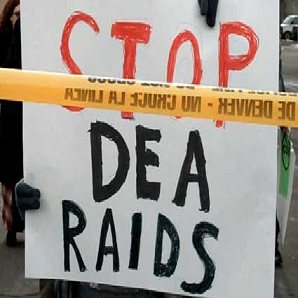 By Steve Elliott
Hemp News
Federal Drug Enforcement Administration and Internal Revenue Service agents, along with officers of the Denver Police Department, on Thursday morning are conducting raids at multiple medical marijuana facilities in the Denver, Colorado area.
A statement from the U.S. Attorney's Office in Denver confirmed the ongoing raids, reports Michael Roberts at Westword. "Our sources tell us it's likely to continue throughout the day and involvers a notable number of targets," Roberts wrote.
A statement from Jeff Dorschner, spokesman for U.S. Attorney John Walsh, gives few details about the raids. Early reports filtering in placed the number of raided operations between 20 and 40.
"The Drug Enforcement Administration, Internal Revenue Service Criminal Investigations, the Denver Police Department and state and local law enforcement are today executing lawfully obtained search warrants and seizure warrants," reads Dorschner's statement.
The raided locations included "a couple" in Boulder County, according to a law enforcement source, reports Mitchell Byars at the Boulder Daily Camera.
A pile of cut-down marijuana plants was visible outside a grow operation on North Foothills Highway, and DEA agents had the assistance of the Boulder County Sheriff's Office in that raid, the Daily Camera reports. Workers at the facilities said there were at least four different grow operations located there, with about 4,500 plants on the property.
One of the grow ops off North Foothills Highway, the Rifle Mountain Dispensary operation, appears to have been spared, a source in a position to know told Hemp News. Preliminary reports are that the Rifle Mountain grow was the only one spared at the old Raytheon Missile silo site in Boulder, which is a big complex with a number of large buildings and warehouses.
An August memo from Deputy Attorney General James Cole stated the federal government would allow the implementation of marijuana legalization in Colorado and Washington, and the operation of medical marijuana laws in 20 states, if they follow federal "guidelines" such as locating more than 1,000 feet from schools and parks, avoiding sales to minors, and avoiding marijuana crossing state borders.
But a note in Dorschner's statement seems to claim that today's raids are in accordance with the Cole memo: "Although we cannot at this time discuss the substance of this pending investigation, the operation under way today comports with the Department's recent guidance regarding marijuana enforcment matters."
"As this is an on-going investigation, no additional information will be made available," Dorschner's statement concludes.
"The Justice Department said it would respect states' rights to regulate marijuana, and that it would not go after businesses as long as they are complying with state laws," said Mason Tvert of the Marijuana Policy Project. "We hope they are sticking to their word and not interfering with any state-regulated, law-abiding businesses.
If a business is suspected of violating state laws, they will likely face increased scrutiny, and if they are found to be in violation, they will likely face consequences," said Tvert, who was behind Amendment 64, the legalization measure approved by Colorado voters last year. "That is how our society treats alcohol, and that is how we expect to see marijuana treated."
(Photo: The Weed Blog)