Colorado: First Hemp Harvest In Half A Century Begins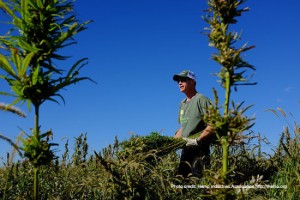 By Steve Elliott
Hemp News
America's first legal hemp harvest in more than half a century began this month in Colorado.
Amendment 64, approved by voters last November, didn't just legalize small amounts of marijuana for adults -- it also cleared the way for industrial hemp production. Farmer Ryan Loflin wasted no time; he planted 55 acres of hemp this past spring, reports Melanie Asmar at Westword.
Hemp advocates from across the United States came to watch last week as Loflin and his crew harvested the first plants by hand. "It felt very historic," said advocate Lynda Parker.
"We think that, obviously, this is a symbolic first hemp harvest," said Eric Steenstra, executive director of the Hemp Industries Association (HIA). Steenstra predicted that farmers in other states will soon follow Loflin's lead.
Since the federal government doesn't distinguish between marijuana and hemp -- classifying both as a Schedule I controlled substance -- when the federal Department of Justice recently indicated it wouldn't sue to stop state marijuana legalization, Steenstra said that policy should apply to hemp, as well.
The night before the ceremonial September 23 harvest, Loflin hosted a dinner at his farm, featuring hemp-based foods. It was attended by Colorado hemp advocates, as well as national advocates from the Hemp Industries Association, Vote Hemp, and Dr. Bronner's Magic Soaps.
Loflin has only been able to harvest about a quarter-acre of his 55 acres of hemp so far. He had initially planned to use a combine to harvest most of it, but when he tried that out, he learned the the combine destroyed part of the hemp plants in the process (remember, nobody's harvested hemp in the U.S. for 50 years, so we're a little out of practice).
Now he said he plans to hand-harvest the entire 55-acre field. "We're going to try and save the entire plant and do as much as we can," he said.
"We'll save a lot of the seed and replant it next year," Loflin said. "It's time for this to happen."
The Colorado Department of Agriculture is still working on its regulations for hemp farmers; it plans to have them in place by early next year. Back in May, the department clarified that it doesn't approve of hemp farming in Colorado before that registration process is in place, but that didn't stop Loflin.
(Photo of Ryan Loflin harvesting hemp: Hemp Industries Association)