Colorado: First Marijuana Business Licenses Issued; Legal Cannabis Sales For Adults To Begin January 1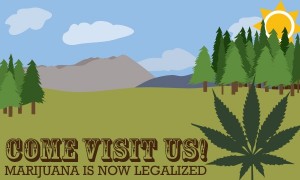 Amendment 64 campaign leaders will hold a news conference on the morning of January 1 at a Denver marijuana store — with an on-site cultivation facility — to recognize first-ever adult marijuana retail sales
First customer will be a Denver-based veteran with PTSD who uses marijuana to alleviate his symptoms; the former Marine appeared in a Yes on 64 television ad discussing how legalization would benefit Coloradans with PTSD — a condition not covered by the state's medical marijuana law
The Colorado State Department of Revenue issued the first licenses to marijuana businesses in Colorado on Monday, December 23. Retail marijuana stores will begin selling marijuana to adults 21 and older on January 1.
The state approved 348 total licenses, including 136 for retail stores, 178 for cultivation facilities, 31 for product manufacturing facilities, and three for testing facilities.
Leaders of the campaign in support of Amendment 64, the successful ballot initiative to regulate marijuana like alcohol approved in November 2012, will hold a news conference at 7:30 a.m. on January 1 at a Denver marijuana retail store that includes an on-site marijuana cultivation facility. The specific store will be announced later this week.
The first customer will be Sean Azzariti, a U.S. Marine Corps veteran in Denver who can now legally use marijuana to alleviate the symptoms of post-traumatic disorder (PTSD), which he developed following two deployments to Iraq. Azzariti appeared in a Yes on 64 campaign television ad last year in which he discussed how legalization would benefit those suffering from PTSD — a condition that is not covered under Colorado's medical marijuana law despite repeated efforts to add it.