Colorado: Governor Signs Legislation Establishing Legal Marijuana Market For Adults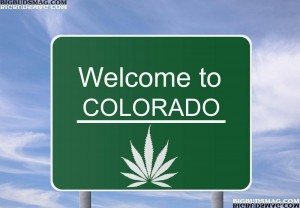 By Steve Elliott
Hemp News
Colorado Governor John Hickenlooper on Tuesday signed historic measures to implement marijuana legalization, establishing the Mile High State as the first legal, regulated and taxed marijuana market for adults since the United Nations Single Convention Treaty on Narcotic Drugs took effect in 1961.
Hickenlooper vocally opposed cannabis legalization last fall when Amendment 64 was on the ballot, saying "Colorado is known for many great things; marijuana should not be one of them." But he signed the bills that will start development of a regulatory framework for the legal marijuana industry, as well as for the cultivation, distribution and processing of industrial hemp, reports Matt Ferner at The Huffington Post.
"Recreational marijuana really is new territory," Hickenlooper said at Tuesday's signing ceremony. He called the bills "common sense," despite his vocal opposition in the past to legalization, reports Kristin Wyatt of The Associated Press.
The governor's chief legal counsel, Jack Finlaw, said although the Hickenlooper administration was opposed to marijuana legalization, "the will of the voters needed to be implemented."
"Despite not supporting Amendment 64, our governor has shown true leadership by ensuring his office and the General Assembly implemented the will of the voters," said Art Way, senior drug policy manager for the Drug Policy Alliance (DPA). "These implementing pieces of legislation signed by the governor are the beginning of statewide efforts to bring marijuana above ground in a manner beneficial to public health and safety."
The bills signed on Tuesday create the Marijuana Enforcement Division, place a marijuana tax on next year's ballot for the voters to approve or reject, establish the regulation of a statewide hemp industry and put in place regulations for consumers and cannabis businesses.
House Bill 1317 and Senate Bill 283, signed by the governor on Tuesday, set up the regulatory framework for the recreational marijuana in Colorado, including cultivation, packaging and sales.
"We applaud Gov. Hickenlooper for the initiative he has taken to ensure the world's first legal marijuana market for adults will entail a robust and comprehensive regulatory system," said Mason Tvert, director of communications at the Marijuana Policy Project.
However, as far as Hemp News has been able to determine, the world's first legal marijuana market for adults started sometime around 10,000 B.C. in central Asia. Legal marijuana markets continued worldwide through human history until the advent of cannabis prohibition in the 1920s and 1930s. That means marijuana was legal for all of human history until roughly the past 75 years.
"This marks another major milestone in the process of making the much-needed transition from a failed policy of marijuana prohibition tp a more sensible system of regulation," said Tvert, who backed Amendment 64 as co-director of the legalization campaign in Colorado.
"Colorado is demonstrating to the rest of the nation that it is possible to adopt a marijuana policy that reflects the public's increasing support for making marijuana legal for adults," Tvert said. "Marijuana prohibition is on its way out in Colorado, and it is only a matter of time before many more states follow its lead."
"The governor has signed off for Colorado to take the lead on taxing and regulating marijuana for adult use," said the DPA's Art Way. "I'm confident our state has, and will continue to do it responsibly.
"After all, we have experience and expertise in comprehensively regulating medical marijuana on a large scale," Way said. "We have a blueprint."
Adults 21 and older will be allowed to buy up to an ounce of marijuana from licensed retail shops that can also sell pipes and smoking accessories. Colorado residents can also grow up to six plants in their homes for personal use, unlike with Washington's anemic "legalization" measure, Initiative 502, which was also approved by voters last November but doesn't allow any home cultivation, forcing consumers to buy legal marijuana from state-licensed stores.
The bills require that retailers label all marijuana products with warnings, serving sizes and THC potency information. Only Colorado residents can own or invest in the stores, reports Eli Stokols of KDVR.
When the first stores open around the beginning of 2014, only existing medical marijuana dispensaries will be eligible to apply for recreational sales licenses for the first nine months.
The first recreational marijuana stores to open will only be able to sell cannabis they have grown themselves, reports John Ingold of The Denver Post. But starting in October 2014, that rule will be lifted so stand-alone growers and retailers can open for business.
Oddly, HB 1317 requires stores to treat marijuana magazines just as they would pornography -- placing them out of reach behind the counter, so that customers have to specifically ask for them, tweeted Kirstin Wyatt of The Associated Press.
A separate measure, House Bill 1318, outlines marijuana taxes, proposing a 15 percent excise tax and a sales tax of 10 percent. Due to Colorado's Taxpayer's Bill of Rights which requires state residents to approve any tax increase, voters will need to weight in on cannabis taxation in the 2014 election.
Some lawmakers are concerned that taxpayers -- even fans of the excise tax and the use of its revenue to construct schools -- will be turned off by a tax rate of 25 percent. Additional state and local taxes could lead to cannabis taxes exceeding 30 percent in some areas.
If voters reject one or both of the taxation proposals, they could leave the state stuck with the tab for enforcing marijuana rules, but without the funds for it, according to Kristen Wyatt of the AP.
But although Coloradans have been known to reject increased taxes, even for popular state services like K-12 education improvement, state voters appear to be ready to approve the pot taxes.
According to a recent survey from Public Policy Polling, 77 percent of Colorado voters support the 15 percent excise tax, earmarked for public school construction, as well as the additional 10 percent sales tax to cover the cost of regulating legalized marijuana sales. Just 18 percent of those polled opposed increased taxes on legal pot sales.
Gov. Hickenlooper said he supported the tax measure. "I'll certainly promote the marijuana question," he told The Denver Post. "We need to make sure we have the resources to have a good regulatory framework to manage this."
Also signed by the governor were Senate Bill 24 -- which proposes the development of a regulatory framework for the commercial cultivation, processing, and distribution of industrial hemp -- and House Bill 1325, a controversial measure that sets a THC blood limit of 5 nanograms per milliliter for Colorado drivers.
Under HB 1325, drivers caught with 5 ng/ml or more of THC in their bloodstreams will be considered "per se" guilty of driving while impaired, and will be ticketed like drunk drivers.
As in previous years when marijuana DUI bills came up for debate at least three times in the Colorado Legislature, opponents of HB 1325 say that 5 nanograms is too low a level for regular marijuana users, especially medical marijuana patients, who almost always have at least this much THC in their systems and could, as a result, lose their driving privileges, The Denver Post reports.
But Colorado lawmakers, unlike their counterparts in Washington state (which has an identical 5 ng/ml limit, passed as part of I-502), at least took a step in the direction of compromising with medical marijuana patients. HB 1325 allows for people who have been charged with having 5 ng/ml of THC in their blood to fight the charge that they are too impaired to drive.
"For example, if you did not exhibit poor driving, you could put that on as evidence to say, 'Look, my driving was not poor; I'm not unsafe to operate a motor vehicle,' " Rep. Mark Waller (R-Colorado Springs) said during earlier hearings of an identical bill which was killed.
(Graphic: Big Buds Mag)