Colorado: Recreational Marijuana Sales Top $5 Million In First Week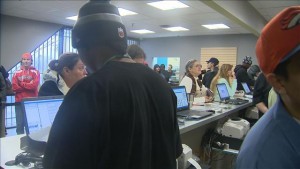 By Steve Elliott
Hemp News
Colorado's newly legal recreational marijuana shops made bank in the first week of legal sales.
The 37 new recreational cannabis dispensaries around the state reported first-week retail sales adding up to about $5 million, reports Matt Ferner at The Huffington Post.
Colorado expects retail cannabis sales to reach $600 million a year, from which it expects to collect almost $70 million in taxes. No official sales figures will be available before February 20, when businesses are required to file January tax reports, according to Julie Postlethwait of the Colorado Marijuana Enforcement Division.
New Year's Day sales, on the first day the shops were allowed to open, topped $1 million, according to Denver's 9News. Business slowed slightly on subsequent days, according to shop owners, but many stores still had lines of waiting customers.
"Every day that we've been in business since January 1 has been better than my best day of business ever," said Andy Williams, owner of Denver's Medicine Man dispensary.
The larger shops reported selling 50 to 60 pounds of cannabis in the first week. Smaller shops sold 20 to 30 pounds, according to proprietors.
Colorado residents may legally buy up to an ounce of marijuana per transaction. Tourists can buy one-fourth ounce, about 7 grams.
Eighth-ounces of marijuana were selling for an average of about $65, according to Marijuana.com. Prices were raised by the state's 25 percent tax on retail purchases, including a 15 percent excise tax and a 10 percent sales tax.
Shop owners said days subsequent to New Year's Day have had about half the first day's sales volume. Fears of shops selling out of weed due to the high demand have so far, not panned out, reports Emily Thomas at The Huffington Post.
"We are not sold out and have tons of inventory," said Ryan Garbey, a budtender at Denver Kush Club. However, The Huffington Post posted a photo of a sign at The Clinic Colorado in Denver, saying "We are currently out of recreational cannabis. Please check back tomorrow!"
(Photo: 9News)